Monday, May 8th, 2023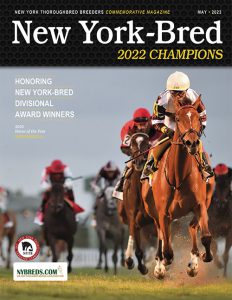 Gainesway Farm's Spendarella was crowned 2022 New York-bred Horse of the Year – in addition to champion 3-year-old filly and champion female turf horse – at the New York Thoroughbred Breeders Inc.'s annual awards ceremony, sponsored by the New York Thoroughbred Breeding and Development Fund, at Saratoga National Golf Course Monday evening May 8.
Bred by the Kentucky-based Gainesway and foaled at Sequel New York in Hudson, Spendarella won four of five starts in 2022 – her first year at the races. She started in February with a maiden victory at Gulstream Park, added the Grade 3 Herecomesthebride Stakes in March and went another step forward with a Grade 2 victory in Keeneland's Appalachian Stakes in April. That triumph earned her a trip to England for the Group 1 Coronation Stakes at the Royal Ascot meeting in June. Against some of the world's best 3-year-old turf fillies, the daughter of Karakontie (Jpn) finished second of 12 runners. Returned to the United States, she became a Grade 1 winner in the Del Mar Oaks at California's Del Mar Race Course in August.
Navigated by trainer Graham Motion, the campaign produced $596,459 in earnings and the New York championships.
"It's amazing having homebreds perform so well," said Gainesway's Antony Beck. "She's a machine, an incredibly athletic, very well-balanced filly with an amazing hind leg. She has superb action and power and seems to be extremely intelligent and likes to win. That's what you want."
In her 2023 debut, Spendarella finished second in the Longines Churchill Distaff Turf Mile on the Kentucky Derby undercard at Churchill Downs Saturday.
The 2022 New York-bred Horse of the Year and divisional champions were chosen by a vote of New York turf writers, handicappers, photographers and television and radio hosts and analysts conducted by the NYTB. A commemorative awards magazine, written and produced by ST Publishing (the team behind The Saratoga Special and thisishorseracing.com), was distributed at the awards dinner and is available online.
Spendarella's success also earned her dam, Spanish Bunny, the honor of New York Broodmare of the Year. The 17-year-old foaled a full-brother to Spendarella in late April. The daughter of Unusual Heat was sent to Sequel New York to be bred to Destin, a stallion co-owned by Gainesway, and foaled New York-breds Spendarella in 2019 and a Destin filly Spanish Destiny in 2020.
"We were supporting Destin's early stallion career, that's how Spendarella became a New York-bred," said Beck. "New York is an important market and state for racing and we're very excited to have horses on the farm who performed well in New York."
"On behalf of New York Thoroughbred Breeders, Inc. and our Board of Directors, it's a privilege to honor each of the 2022 New York-bred Divisional Champions and their connections including New York-bred Horse of the Year Spendarella at annual marquee event," said NYTB Executive Director Najja Thompson. "Everyone who participates in the New York-bred program should feel proud of the accomplishments each of our nominees and award winners have garnered in the past year. Showcasing the depth and quality of the New York-bred program nationally and worldwide."
CLICK HERE for a commemorative magazine produced by ST Publishing for the NYTB celebrating the 2022 champions.
The New York-bred champions for 2022:
Horse of the Year, champion 3-year-old filly, champion female turf horse: Spendarella. Karakontie (Jpn)-Spanish Bunny, Unusual Heat. Breeder/owner: Gainesway Stable. Trainer: Graham Motion.
2-year-old filly: Les Bon Temps. Laoban-Winsanity, Tapizar. Breeder: Southern Equine Stable. Owner: Deuce Greathouse, Cindy Hutson, Brett Setzer. Trainer: Mike Maker and Norm Casse.
2-year-old male: Acoustic Ave. Maclean's Music-Rock Ave. Road, Street Boss. Breeder: Chester and Mary Broman. Owner: Reeves Thoroughbred Racing. Trainer: Christophe Clement.
3-year-old male: Rotknee. Runhappy-In Spite Of Mama, Speightstown. Breeder/owner: William "Buck" Butler. Trainer: Mike Maker.
Older dirt female and female sprinter: Bank Sting. Central Banker-Bee In A Bonnet, Precise End. Breeder: McMahon of Saratoga Thoroughbreds. Owner: Hidden Brook Farm and Joe and Anne McMahon. Trainer: John Terranova.
Older dirt male: Americanrevolution. Constitution-Polly Freeze, Super Saver. Breeder: Fred Hertrich III and John Fielding. Owner: CHC and WinStar Farm. Trainer: Todd Pletcher.
Male sprinter: Wudda U Think Now. Fast Anna-Unbridled Grace, Unbridled Jet. Breeder: Mina Equivest. Owner: The Elkstone Group. Trainer: Rudy Rodriguez.
Male turf horse: City Man. Mucho Macho Man-City Scamper, City Zip. Breeder: Moonstar Farm. Owner: Reeves Thoroughbred Racing and Peter and Patty Searles. Trainer: Christophe Clement.
Steeplechase horse: Down Royal. Alphabet Soup-Miss Crown, High Yield. Breeder: Bernie and Katie Dalton. Owner: Joe Fowler and Kate Dalton. Trainer: Kate Dalton.
Broodmare of the Year: Spanish Bunny.
Breeder of the Year: Chester and Mary Broman.
Trainer of the Year: Christophe Clement.
Jockey of the Year: Manny Franco.