Tuesday, October 20th, 2020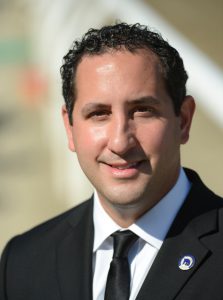 New York Thoroughbred Breeders, Inc. (NYTB) today announced that Jeffrey Cannizzo, Executive Director, will be leaving the organization on January 1st, 2021 to pursue a newly created opportunity with the New York Racing Association, Inc. (NYRA) as Senior Director of Government Affairs.  Jeff has served as Executive Director of NYTB since 2008. Previously, he had a successful 10-year career, working in business development and management consulting for Lockheed Martin, Dell and Microsoft.
"For almost 13 years along with our board of directors, Jeff has been instrumental in navigating the most challenging times for New York Thoroughbred Breeding and Racing. Jeff's knowledge of the industry and his ability to forge consensus among regulators and elected officials has allowed the NYTB to reach new heights as an organization. These attributes will serve him well at NYRA, and we wish him all the best in the future," said NYTB President, Thomas Gallo.
A search for a new Executive Director will begin immediately.
Jeffrey Cannizzo, NYTB Executive Director said, "New York's breeding industry has flourished over the last decade, and I feel fortunate to have played a role in that success story. I'd like to thank the NYTB Board of Directors for their commitment to those working every single day on the 250 farms throughout New York." "Thoroughbred racing is responsible for 19,000 jobs and more than $3 billion in annual economic impact to New York," Cannizzo continued. "The sport creates good jobs in every corner of the state and sustains hundreds of small businesses. NYRA is the engine of that economy and continues to set the standard for safety and integrity at its three historic tracks. I look forward to advocating on their behalf to help shape the future of thoroughbred racing in New York."