Thursday, April 6th, 2023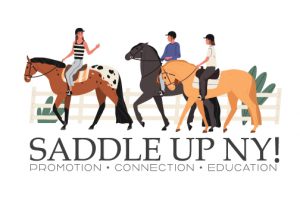 By Dr. Karin Bump
The opening of the American Horse Council's National Economic Impact Study  on April 3rd, coincides with the 1-year anniversary celebration for SaddleUpNY!  Launched early 2022, SaddleUpNY! is a business initiative to accelerate the success and growth of the NYS Equine Industry through delivery of promotion, connection and education activities and materials. An important part of the work of the organizations in its inaugural year has been collaborating with partner organizations and industry stakeholders to secure funds for a New York State breakout study, as well as a Long Island companion study, in conjunction with the  AHC National Economic Impact Study. The study survey is online and available now at the following links:
Horse Owner (or leaser) Survey:  https://www.surveymonkey.com/r/AHC_Owner_Survey
Horse Industry suppliers: for industry suppliers, people who operate a horse-related business but do not own horses. https://www.surveymonkey.com/r/AHC_Supplier_Survey
"The purpose of the study is to demonstrate the value of the equine industry in the national and state economies by analyzing the direct, indirect, and induced economic impacts of horse ownership, recreation, and equine-related services. Data collected will inform public and private investments in equine-related businesses, equine health care, education, land use decisions, tax policy, tourism, employment incentives, etc. " (AHC press release)
"The Economic Impact Study is the most effective tool in our advocacy quiver," says Julie Broadway, president of the AHC. "When the industry needs to take aim at an issue, this data is invaluable in helping us paint the picture of the contributions the industry makes and the breath & depth of its composition."   As the study opens, it is essential that the New York horse community take the survey and widely encourage others to do so as well.
To encourage participation, the AHC has partnered with several sponsors to offer 15 incentive prizes, including: 1st Prize – One John Deere "green" piece of equipment ($7,500); 2nd Prize – One year of Nutrena feed for 1 horse (a $2,000 value): 40 Nutrena free-bag coupons valued at up to $50 a coupon; 3rd – 6th Prize – One year of Purina feed for 1 horse (a $500 value per horse): 20 coupons valued at $25/each (total value $500); 7th Prize – One countertop fridge (holds up to 40 cans/bottles) from Cargill, valued at $350; 8th-9th Prizes – Enrollment in Texas A&M AgriLife Equine Reproductive Management Online Course, valued at $300/enrollment; 10th– 15th Prizes – $30 gift certificates from Trafalgar Square Books (total value $180). In addition, all participants completing the survey will be eligible for 15% discount on purchases at horseandriderbooks.com (discount code is provided at the end of the survey).Prize winners will be announced in the fall 2023 when the study results are announced. See AHC website to review all the prize drawing rules. (Economic Impact Study – American Horse Council)
The New York State breakout study and the Long Island companion study were made possible through the generous support and contributions of:  New York Thoroughbred Breeding and Development Fund, New York Thoroughbred Breeders, Old Field Farm, Blue Chip Farm, John Madden Sales, Cornell University Hospital for Animals, New York Farm Bureau, New York State Horse Council, Karin Bump and Timothy Williams, Sally Lynch, Kent Nutrition, Triple Crown Nutrition, and Go-Fund-Me contributions by individuals in the New York State equine community.
New York horse owners, those leasing horses, and horse industry suppliers are encouraged to take the survey now and then share with others to secure wide industry participation.  The survey will be available from April 3, 2023, through September 29, 2023. More information and the 2023 Economic Impact Study can be found on the AHC website: https://horsecouncil.org/economic-impact-study/. For more information regarding the New York components of the study, please contact Dr. Karin Bump at dr.kbump@gmail.com