Wednesday, December 28th, 2022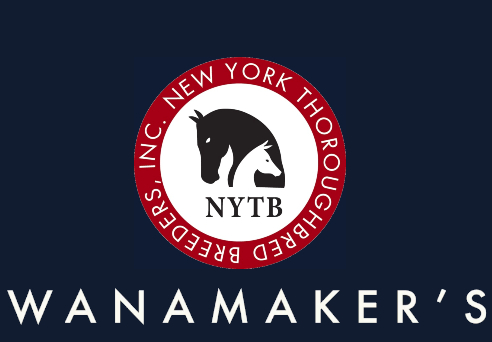 New York Thoroughbred Breeders, Inc. (NYTB) will conduct its annual Stallion Season Auction from Friday, January 27 to Tuesday, January 31 on Wanamakers.com.
The auction raises funds that allow the NYTB to carry on its two-fold mission of promoting New York breeding and racing and protecting the welfare of industry stakeholders.
The auction has routinely attracted donated seasons from farms in the Empire State and Kentucky, including McMahon of Saratoga Thoroughbreds, Sequel New York, Irish Hill & Dutchess Views Stallions, Rockridge Stud, Darley, WinStar Farm, Darby Dan Farm, and Gainesway Farm.
"The benefit of our annual stallion season auction is that it allows participants to find great value on stallions from leading farms in New York, the Commonwealth of Kentucky, and elsewhere while helping our mission to protect and enhance the incentives and awards that have made the New York-bred program the strongest regional breeding program in the country," said New York Thoroughbred Breeders Executive Director Najja Thompson.
New York-bred program stakeholders receive more than $60 million distributed in purse money, incentives, and awards for New York-breds who compete in more than 600 New York-bred races run annually on the New York Racing Association circuit and Finger Lakes Gaming & Racetrack.
Additionally, there are specific enhanced programs targeted for New York-Sired New York-breds, including the $2.3 million 10-race New York Stallion Stakes Series and the New York-sired owner's bonus programs on the New York Racing Association circuit.
Donations of stallion seasons will be accepted until the beginning of the auction. Please visit nytbreeders.org to view the current list of stallions in the auction and contact NYTB directly at 518.587.0777 or info@nytbreeders.org to donate a season.
Participants must register with Wanamakers.com prior to bidding. All bids will be subject to the rules and conditions of the auction and each season's conditions will be posted. Click here to register your account with Wanamakers.com in advance.
Available Seasons
*Current as of 1/24
| | | |
| --- | --- | --- |
| Stallion | Standing At | State |
| Accelerate | Lane's End | KY |
| Alternation | Darby Dan Farm | KY |
| Aloha West | Mill Ridge Farm | KY |
| Authentic | Spendthrift Farm | KY |
| Al Khali | Rockridge Stud | NY |
| A Shin Forward | Rockridge Stud | NY |
| Bal A Bali(BRZ) | Calumet Farm | KY |
| Bee Jersey | Darby Dan Farm | KY |
| Big Brown | Irish Hill & Dutchess Views Stallions | NY |
| Bravazo | Calumet Farm | KY |
| Catalina Cruiser | Lane's End | KY |
| Capo Kane | Bonner Hill | PA |
| Central Banker | McMahon of Saratoga Thoroughbreds | NY |
| Channel Cat | Calumet Farm | KY |
| Copper Bullet | Darby Dan Farm | KY |
| Country House | Darby Dan Farm | KY |
| Courageous Cat | Questroyal North | NY |
| Core Beliefs | Walmac Farm | KY |
| Cross Traffic | Spendthrift Farm | KY |
| Disco Partner | Rockridge Stud | NY |
| Dolphus | Darby Dan Farm | KY |
| DR Large | Oriskany Creek Farm | NY |
| Eddington | Ackerman Farm | AZ |
| Enticed | Darley Stud | KY |
| Fire at Will | Sequel New York | NY |
| Flat Out | Mighty Acres | OK |
| Flameaway | Darby Dan | KY |
| Frank Conversation | Rockridge Stud | NY |
| Freud | Sequel New York | NY |
| Frosted | Darley | KY |
| Gift Box | Lane's End | KY |
| Good Samaritan | WinStar Farm | KY |
| Goldencents | Spendthrift Farm | NY |
| Hangover Kid | Majestic View Farms | NY |
| Hence | Calumet Farm | KY |
| Hightail | Calumet Farm | KY |
| Higher Power | Darby Dan Farm | KY |
| Honor A.P. | Lane's End | KY |
| Honor Code | Lane's End | KY |
| Honest Mischief | Sequel New York | NY |
| Keepmeinmind | Sequel New York | NY |
| Keen Ice | Calumet Farm | KY |
| Killybegs Captain | Mill Creek Farm | NY |
| King For a Day | Irish Hill & Dutchess Views Stallions | NY |
| Leofric | Darby Dan Farm | KY |
| Lexitonian | Lane's End | KY |
| Lookin At Lee | Irish Hill & Dutchess Views Stallions | NY |
| Mind Control | Rockridge Stud | NY |
| Mitole | Spendthrift Farm | KY |
| Modernist | Darby Dan Farm | KY |
| Mission Impazible | Sequel New York | NY |
| Optimizer | Calumet Farm | KY |
| Oxbow | Calumet Farm | KY |
| Pat on the Back | Bonner Hill Farms | PA |
| Pinehurst | Walmac Farm | KY |
| Raging Bull | Gainesway Farm | KY |
| Raison d'Etat | Calumet Farm | KY |
| Ransom the Moon | Calumet Farm | KY |
| Real Solution | Calumet Farm | KY |
| Redesdale | McMahon of Saratoga Thoroughbreds | NY |
| Rock Your World | Spendthrift Farm | KY |
| Sacred Life(FR) | Buck Ridge Pond | KY |
| Slumber(GB) | Rockridge Stud | NY |
| Solomini | McMahon of Saratoga Thoroughbreds | NY |
| Spun to Run | Gainesway Farm | KY |
| Tapwrit | Gainesway Farm | KY |
| Tale of Ekati | Calumet Farm | KY |
| Tale of Silence | Darby Dan Farm | KY |
| Tale of Verve | Darby Dan Farm | KY |
| The Factor | Lane's End | KY |
| Tourist | Rockridge Stud | NY |
| True Timber | Calumet Farm | KY |
| Unified | Lane's End | NY |
| Venezuelan Hug | Mill Creek Farm | NY |
| Waiting | Irish Hill & Dutchess Views Stallions | NY |
| War Dancer | Irish Hill & Dutchess Views Stallions | NY |
| Warrior's Charge | Irish Hill & Dutchess Views Stallions | NY |
| West Coast | Lane's End | KY |
| Wicked Strong | Pine Oak Lane Farm | PA |
| Yaupon | Spendthrift Farm | KY |
| Mr. Z | Calumet Farm | KY |