Saturday, August 13th, 2022
NYTB Press Release
Americanrevolution's rapid development last season earned him New York-bred Horse of the Year and champion 3-year-old male honors during the New York Thoroughbred Breeders Inc.'s Annual Awards Ceremony on Friday, Aug. 12 at Fasig-Tipton's Humphrey S. Finney Sales Pavilion.
Bred by Fred Hertrich and John Fielding and owned by CHC Inc. and WinStar Farm, Americanrevolution went from a maiden in June to a Grade 1 winner by December to lock up his championships.
The 2021 New York-bred Horse of the Year and divisional champions were chosen by a vote of New York turf writers, handicappers, photographers and television and radio hosts and analysts conducted by the NYTB. The Awards Ceremony returned to an in-person event for the first time since 2019.
A Commemorative Awards Program, written and produced by ST Publishing (the team behind The Saratoga Special and Thisishorseracing.com), will be mailed to all NYTB members and currently available on the Thisishorseracing.com website. Program.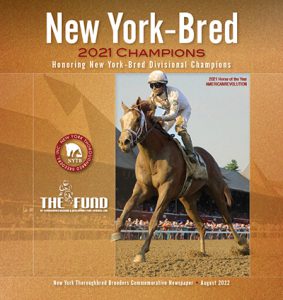 New York's 2020 honorees:
New York-Bred Horse of the Year and Champion Three-Year-Old Male:
Americanrevolution (Constitution – Polly Freeze, by Super Saver)
Breeder: Fred Hertrich III and John Fielding
Owner: CHC Inc. and WinStar Farm
Trainer: Todd Pletcher
Foaling farm: Irish Hill Century Farm, Stillwater
Champion Two-Year-Old Filly
Venti Valentine (Firing Line – Glory Gold, by Medaglia d'Oro)
Breeder: Final Furlong Racing Stable and Maspeth Stable
Owner: NY Final Furlong Racing Stable and Parkland Thoroughbreds
Trainer: Jorge Abreu
Foaling farm: Schuylerville Thoroughbred Farm, Fort Edward
Champion Two-Year-Old Male
Senbei (Candy Ride – Sweet Aloha, by Western Cat)
Breeders: Dr. Jerry Bilinski
Owner: Reeves Thoroughbred Racing and Darlene Bilinski
Trainer: Christophe Clement
Foaling farm: Waldorf Farm, North Chatham
Champion Three-Year-Old Filly
Make Mischief (Into Mischief – Speightful Lady, by Speightstown)
Breeder: Avanti Stable
Owner: Gary Barber
Trainer: Mark Casse
Foaling farm: Song Hill Thoroughbred, Mechanicville
Champion Older Dirt Female and Champion Female Sprinter
Bank Sting (Central Banker – Bee in a Bonnet, by Precise End)
Breeder: McMahon of Saratoga Thoroughbreds
Owners: McMahon of Saratoga Thoroughbreds and Hidden Brook Farm
Trainer: John Terranova
Foaling farm: McMahon of Saratoga Thoroughbreds, Saratoga Springs
Champion Older Dirt Male
Bankit (Central Banker – Sister in Arms, by Colonel John)
Breeders: Hidden Brook Farm and Blue Devil Racing
Owners: Winchell Thoroughbreds and Willis HortonRacing
Trainer: Steve Asmussen
Foaling farm: McMahon of Saratoga Thoroughbreds, Saratoga Springs
Champion Turf Female
Runaway Rumour (Flintshire – Elusive Rumour, by Elusive Quality)
Breeder/Owner: Lawrence Goichman
Trainer: Jorge Abreu
Foaling farm: Edition Farm, Hyde Park
Champion Turf Male
Somelikeithotbrown (Big Brown – Marilyn Monroan, by Tapit)
Breeder: Hot Pink Stables and Sand Dollar Stables
Owner: Skychai Racing LLC and Sand Dollar Stable LLC
Trainer: Mike Maker
Foaling farm: Sequel Stallions New York, Hudson
Champion Male Sprinter
My Boy Tate (Boys At Tosconova – Backslash, by Sharp Humor)
Breeder/Trainer: Michelle Nevin
Owners: Little Red Feather Racing and Michelle Nevin
Foaling farm: Rockridge Stud, Hudson
Champion Steeplechaser
Down Royal (Alphabet Soup – Miss Crown, by High Yield)
Breeders: Bernard and Kate Dalton
Owner: Shadowfax Stable
Foaling farm: McMahon of Saratoga Thoroughbreds, Saratoga Springs
Broodmare of the Year: Polly Freeze (Super Saver – Elusive Gold, by Strike the Gold), dam of Americanrevolution
New York-Bred Trainer of the Year: Christophe Clement
New York-Bred Jockey of the Year: Luis Saez
New York Breeder of the Year: Chester and Mary Broman