Thursday, November 18th, 2021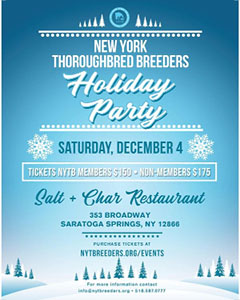 The New York Thoroughbred Breeders' Inc. is pleased to announce the return of its annual Holiday Party on Saturday, Dec. 4 at Salt & Char Restaurant in downtown Saratoga Springs. Tickets are currently available for the Holiday Party, which runs from 6-9 p.m. ET with an open bar throughout and food served at 7 p.m.
"We're happy to once again be able to host this event at one of the premier restaurants in Saratoga to kick off the holiday season," said Najja Thompson, Executive Director of the New York Thoroughbred Breeders Inc. "As we look back on another great year for the New York-bred program and in anticipation of the 2022 breeding season, this event is one for all to enjoy who participate and interested to learn more about the New York-bred program."
Tickets can be purchased at nytbreeders.org/events and are $150 for NYTB members and $175 non-members.
The NYTB will also offer a special discounted hotel rate at Saratoga Hilton for $139 a night for Friday, Dec. 3 and Saturday, Dec. 4. Click here to reserve a room.