Thursday, September 23rd, 2021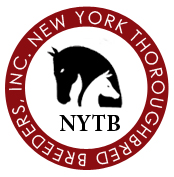 The New York Thoroughbred Breeders hosts its annual general membership meeting and industry education seminar at the Fasig-Tipton sales pavilion in Saratoga Springs Sunday, Oct. 17. The event begins at 5 p.m. and all are encouraged to RSVP by Friday, Oct. 14 at nytbreeders.org/events.
Veterinarian Dr. Scott Hancock will speak on the educational topic, "Stress Happens, Ulcers don't have to." Hancock is a professional service veterinarian for Boehringer-Ingelheim Animal Health with special interests in equine immunology, endocrinology, respiratory disease, equine gastric ulcer syndrome and lameness evaluation and therapies
The event, the day before the Fasig-Tipton New York breeding stock sale at Saratoga, will be followed by a complimentary cocktail hour and barbecue for those in attendance.
Fasig-Tipton's fall sale in Saratoga returns Oct. 18 this year after not being held in 2020. The sale, which begins at 10 a.m., includes 90 broodmares and racing/broodmare prospects, and 200 weanlings.
Those wishing to attend the seminar and membership meeting must RSVP by Oct. 14 at nytbreeders.org/events. For more information, send an email to info@nytbreeders.org or call (518) 587-0777.