Thursday, April 29th, 2021
By Tom Law
Danny Velazquez stepped out of the shedrow of Barn 41 on the backside of Churchill Downs Thursday morning and still couldn't get over the sequence of events that got him and Brooklyn Strong to Louisville for Saturday's Kentucky Derby.
"How does this happen? I still don't get it," Velazquez, who trains the New York-bred son of Wicked Strong from his base at Parx Racing, said to anyone within earshot.
A small crowd gathered nearby as Brooklyn Strong, who arrived in Louisville early Tuesday morning before drawing post 3 for the 147th Derby, walked out of the same shedrow a few minutes later to head out for his first training session at Churchill.
Trainer Joe Sharp, aboard his pony, led Brooklyn Strong on the short walk from the barn to the backstretch gap where fellow Derby runners Soup and Sandwich, Helium, Rock Your World and Hot Rod Charlie and Kentucky Oaks entrant Pass the Champagne waited for the all-clear to train during the designated window for Oaks and Derby runners.
Velazquez found a spot along the outside rail to watch Brooklyn Strong go off the wrong way and the gelding, last year's champion New York-bred 2-year-old male who was pegged at 50-1 on the morning line for the Derby, jogged once around the sloppy main track with the pony.
"He's taken it better than me, he's settled in and hasn't stopped eating, which is key," Velazquez said. "Honestly as far as fitness is concerned he's as fit as I can get him with one week notice and we're in. I'm just happy to be here. Like I said, I have nothing to prove. He's a $5,000 purchase and we're here, we made the 1 percent."
Brooklyn Strong wound up in the Derby after a series of defections last weekend started to whittle down the field. Brad Cox took Caddo River out of consideration Sunday and that put Brooklyn Strong, ranked 20th by points thanks to the 10 he earned winning the Grade 2 Remsen Stakes last December at Aqueduct, in the race if owner Mark Schwartz and Velazquez wanted the spot.
Brooklyn Strong worked 5 furlongs in 1:00.92 Monday to solidify his chances. He shipped by van Monday night and arrived in Louisville at about 6 a.m. Tuesday. Velazquez didn't train the gelding Wednesday, waiting instead for the light session Thursday.
"I'm going to try to school today," Velazquez said. "You have to remember he worked Monday and then had a 12-hour van ride. Compared to everybody else, they've been here, relaxed, whereas this horse has been on a van doing everything."
Bred by Cheryl Prudhomme and Dr. Michael Gallivan and foaled at their Shamrock Hill Farm in Fort Edward, Brooklyn Strong originally sold as a weanling for $30,000 at the Fasig-Tipton Saratoga fall mixed sale. He RNA'd on two subsequent trips through the sales ring – for $42,000 as a yearling at the Fasig-Tipton Saratoga New York-bred yearling sale and then for $6,000 as a yearling at the OBS October mixed sale – before Schwartz bought him for $5,000 at last year's OBS Spring sale of 2-year-olds in training.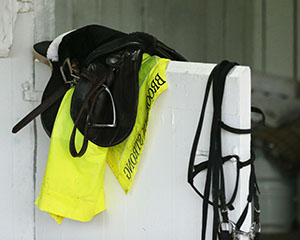 Brooklyn Strong won a maiden claiming race for a $40,000 tag in September at Delaware Park before a third in the Bertram F. Bongard Stakes and a victory in the Sleepy Hollow Stakes, both at Belmont Park. He turned heads with a mild upset victory over a field that included eventual Florida Derby winner Known Agenda in the Grade 2 Remsen to end his 2-year-old season.
Velazquez hoped to make the late winter and early spring classic preps with Brooklyn Strong but wound up beset by weather issues and the gelding's mild illness that forced him to miss the Grade 3 Gotham in early March. He trained Brooklyn Strong up to the Grade 2 Wood Memorial April 3 at Aqueduct and they finished fifth, not earning any points and seemingly seeing his connections' Derby dreams come to an end.
"This is not the plan, but what is the plan right? This is life," Velazquez said of the improbable way they made it anyway. "I'm just excited to be here, taking it all in. Like I'm telling everybody I have zero pressure and I'm just enjoying all of it. It's a lifelong dream."