Monday, March 1st, 2021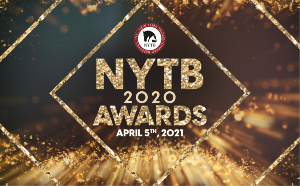 By Najja Thompson
The New York Thoroughbred Breeders, Inc. (NYTB) is pleased to announce Thoroughbred breeders and owners Patricia Generazio and her late husband Frank Generazio, in addition to the recently deceased Ellen Bongard, will each receive a Lifetime Achievement Award for excellence in the New York-bred program.
Former NYTB Executive Director Jeffrey Cannizzo will also receive a special award for his exemplary service.
The honorees will be recognized at the NYTB's Annual Awards event, held in a special virtual format on Monday, April 5 at NYTBAwards.com. The 2020 New York-bred divisional champions and New York-bred Horse of the Year will also be unveiled during the event sponsored by the New York State Thoroughbred Breeding & Development Fund.
"On behalf of our Board of Directors we are proud to honor each of these noteworthy individuals for their contributions and service to the New York racing and breeding industry," said NYTB President Tom Gallo. "Each one of them has made significant efforts as owners, breeders and administratively helping to make New York the best and most lucrative state-bred program in the country."
Patricia Generazio and her husband Frank Generazio, Jr., who passed last November at the age of 91, campaigned a number of homebred multiple graded stakes winners. Mr. Generazio, who owned New England Sand and Gravel company, first got his start in the Thoroughbred industry in his native New England and was a trainer at Rockingham Park and Suffolk Downs before he and his wife built a successful breeding operation that notably made an impact in New York, New Jersey and Florida.
Outstanding New York homebreds campaigned by the Generazios include multiple graded stakes winners Discreet Marq and Disco Partner. Subsequent homebred standouts include multiple graded stakes winner Pure Sensation, Precious Passion, Dowse's Beach and Saratoga Treasure.
"We've always been big supporters of the New York-bred program and will continue to breed in New York year-round," said Patricia Generazio. "Frank always selected our breedings, and he loved the New York-bred program. I'm very thankful and appreciative to receive this award on behalf of both of us. His loss still hurts and our stable will be reduced substantially, but we already have many Disco Partner babies and we will continue to have a presence in New York."
Ellen Bongard, who passed away at the age of 77 last December, was a pioneer in the New York Thoroughbred industry and her family owned one of the oldest active breeding farms in the state.
The daughter of the late attorney Bertram F. Bongard, who played a key role in the formation of the New York State Thoroughbred Breeding and Development Fund and New York Thoroughbred Breeders, Inc., Ellen and her sister Barbara Bongard owned Rojan Farm in Pine Plains, a flagship NY farm and a staple to the NY breeding industry for many years before moving to the Town of Northumberland near Saratoga Springs.
The Bongards stood many successful stallions at their Rojan Farm including Santa Anita Derby winner An Act, Northern Dancer's son Kick, Rare Earth, Back Bay Barrister and many others. Ellen was also credited with the creation of The Bongard Room at the National Museum of Racing and Hall of Fame. The room is used for conferences and honors pioneers and legends of the state's breeding industry.
"She would definitely appreciate this," said Barbara Bongard. "She's certainly done a lot for the New York-bred program. I like to say our father started our family's influential success in the industry and Ellen took the reins and continued on. We're thankful she's receiving this recognition."
Jeffrey Cannizzo served as executive director of New York Thoroughbred Breeders, Inc. for nearly 13 years before leaving to join the New York Racing Association, Inc. as Senior Director of Government Affairs in January. During his tenure, the New York-bred program gained significant exposure, stability and continued development and success. He elevated the position of executive director to one of leadership and national recognition for the NY Thoroughbred Breeding program.
"New York's breeding industry has flourished in recent times and I feel very fortunate to​  have played a small role in that success story," said Cannizzo. "I'd like to thank the NYTB Board of Directors for their commitment to those working every single day on the 250 farms throughout New York. The success of the state-bred program comes with the tireless efforts of so many stakeholders. Being able to represent so many wonderful people and speak on their behalf for over a decade is something I will always cherish. The many relationships formed during my time with NYTB will always be important to me. The New York-bred program will always hold a special place."