Thursday, January 28th, 2021
By Tom Law
Worth the wait.
Such was the case for McMahon of Saratoga Thoroughbreds Wednesday during the second and final session of the Ocala Breeders' Sales Company's winter mixed sale and specifically for Hip 805. The New York-bred short yearling daughter of Laoban wound up the last horse through the ring – after originally not being cataloged or even included in an addendum because she was entered late – and the sale's most expensive when all was complete in Ocala.
Sand Hill Stables went to $175,000 for Hip 805, a filly out of the Grand Reward mare Best Reward, to top the sale.
McMahon of Saratoga sold the filly, foaled at its farm in Saratoga Springs and bred by the late Ken LeJeune.
"It was wild," McMahon of Saratoga's Joe McMahon said Thursday from the farm, where he watched the sale. "A lot of drama."
The sale-topping filly, who ended a strong run for New York-breds in the open session, landed in the OBS winter sale after LeJeune passed away suddenly Dec. 4 after a brief illness. The longtime horseman, who also worked in the industry for four decades as a jockey, trainer and bloodstock agent, worked with McMahon for about 15 years.
"He and I had been trading horses for years," McMahon said. "Buying and selling horses, he'd send mares up here to foal, we would send yearlings down there to be broken. Then, all of a sudden he's got two mares here and I have two yearlings down there and he passed away.
"I talked it over with his wife Carey and we decided to we had to get the horses in the sale, but it had already closed. It was going to go in the online section but that didn't work either. So they ended up adding the horse in the last minute, maybe two weeks ago."
The filly wound up being the last horse through the ring and was announced as selling without reserve prior to bidding.
"They started her at $2,000 and Ryan (Mahan, OBS auctioneer) had to work very hard," McMahon said with a laugh. "I think he got it up to $5,000 increments until it was around $80,000 or $90,000 but it was $2,000 forever."
Best Reward placed in three stakes during her career and earned $164,496. Her first two foals, by McMahon of Saratoga-based stallion Central Banker, are winners and her third, a 3-year-old Laoban colt named Johnny Fontaine, sold as a yearling for $50,000 and is in training.
Best Reward's fourth foal, an unnamed 2-year-old filly by Central Banker, sold for $25,000 at last year's Fasig-Tipton Kentucky October yearling sale, and she's back in foal due in March to McMahon of Saratoga's Solomini. LeJeune bred or co-bred all of Best Reward's foals.
"It's great that it all worked out with that horse," McMahon said. "It was really something. I think Laoban was a longshot in the first place. And to have it come out like that for Kenny's family was just like, the greatest."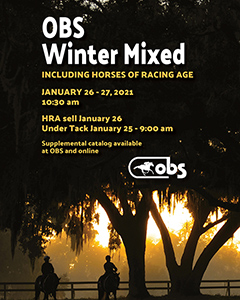 The sale-topping filly also ended a strong run for New York-breds in the open session, which short yearlings sell for $67,000, $65,000 and $60,000.
McMahon also sold another Laoban New York-bred, Hip 652, that brought $67,000 from Dailey Bloodstock LLC. Bred by Seidman Stables and foaled at McMahon of Saratoga, the colt is out of the winning Forestry mare Double Dinghy Day. From the family of graded stakes-placed producer Windson, $485,345-earner Pinson and stakes winner Falconese, the colt is also a half brother to three winners from four foals to race for Double Dinghy Day.
Hip 673, a New York-bred colt from the first crop of Grade 1 winner Army Mule, sold for $65,000 at Rosewood Stable. Bred by Four Winds Farm LLC and Eagle View Farm LLC and consigned by Francis and Barbara Vanlangendonck's Summerfield, agent, the colt is out of the unraced Souvenir Copy mare Fife. Foaled at Rockridge Stud in Hudson, the colt is a half-brother to four winners led by $112,160-earner Mumbo.
Another New York-bred short yearling colt by Army Mule, Hip 647, sold for $60,000 to Tami Bobo and Fernando De Jesus of First Finds. Bred by and foaled Saratoga Glen Farm LLC in Schuylerville and consigned by Stuart Morris, agent, the colt is the first foal out of the winning Dialed In mare Dial the Doctor from the family of champion, classic winner and leading sire Unbridled.
A short yearling filly by Hard Spun, Hip 90, sold for $67,000 to DKW Racing to finish as the top-selling New York-bred during Tuesday's consignor preferred session. Bred by Michael Shanley, foaled at Song Hill Farm in Mechanicville and consigned by C & S Thoroughbred Sales, agent, the colt is the first foal out of the winning Pioneerof the Nile mare Cleo from the family of graded stakes winners Prospective Saint, Ruling Angel and Nigon's Eclipse.