Friday, September 4th, 2020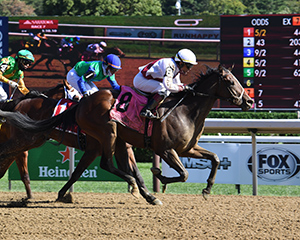 By Sean Clancy 
Seth Hancock walked into Woody Stephens' barn on the turn of the main track at Saratoga Race Course and offered exercise rider Phil Gleaves an opportunity and a situation.
"Phil, I've got two tickets to the Garden if you want to go see Bowie tonight."
Gleaves finished soaping the last leather bridle, checked the Greyhound Bus schedule, parked his car next to the Spa City Diner that afternoon and made the 180-mile trip to the Garden in Manhattan.
Bowie opened with Star, then Heroes, What in the World, Golden Years, Fashion…encored with The Jean Genie, a cover of the Who's I Can't Explain and finished with Modern Love.
It was one of 11 Bowie concerts Gleaves saw before the rock icon died in 2016.
"After work that afternoon, I jumped on a Greyhound bus, went to see Bowie," Gleaves said. "Got back on a Greyhound bus, got home at about 4 in the morning and was on a horse for first set."
Unraced, future millionaire Miss Oceana? Maybe Saratoga Special winner Swale? Or perhaps an unraced son of Halo named Devil's Bag who would win his debut three weeks after that concert?
"I don't remember the horse, but I know it was a good one," Gleaves said. "I couldn't miss the opportunity to see Bowie."
Thirty-seven years later, Gleaves saddled a homebred gelding named for the reason for the excursion to win the Funny Cide Stakes on the Saratoga Showcase Day card for New York-breds. Thin White Duke broke his maiden in the state-bred stakes for Gleaves, Steven Crist, Ken deRegt and Bryan Hilliard. Ridden by Joel Rosario, the son of Dominus broke from the outside post, settled off the pace, waited and shifted late to score by a half-length over favorite Eagle Orb and Lookin For Trouble, finishing 6 ½ furlongs in 1:16.75.
Following Stephens' lead, Gleaves has kept Thin White Duke busy with five starts as a juvenile.
"We run them. We run them. The meet personally is going quite well, we've started a dozen, we've had three seconds, three thirds," Gleaves said before the Funny Cide. "We haven't quite gotten to that hallowed winner's circle yet, but I emphasize the word yet. We've got a few left to go."
Thin White Duke took care of that.
Bred by Gleaves, Thin White Duke is out of Aberdeen Alley. The daughter of Distorted Humor never raced but has been prolific for Gleaves, producing Saratoga stakes winner Miami Cat, stakes placed I Ain't Gonna Lie who Gleaves sold after her debut win, maiden special winner Sweet Summer Sweet, Belmont Park debut winner Yes And Yes and stakes placed Now Is.
"Unfortunately, we lost the mare last year, we had to put her down, she had some age and she had a bad injury. We had Now Is, who was a 3-year-old out of the mare, he had a heart attack this past winter while training. Then a week ago, the last foal of the mare, a New York-bred by Freud, she had hernia surgery and it did not go well so we had to euthanize her," Gleaves said. "You know the vagaries of this game. Thin White Duke is the last of the line of Aberdeen Alley who has been so good to us. The game can bring you to your knees."
Thin White Duke brought it back Friday afternoon, pushing his career earnings to $120,020. He finished third in his career debut at Belmont Park June 19 and came right back to finish third again at Belmont July 12.
"The first day, I was expecting him to be on the lead but he hit the gate and came from last to finish third," Gleaves said. "His second start, we rushed him off his feet."
Switched to the turf, the dark bay gelding finished second by a length at Saratoga July 19 and came back to get nailed by a neck in another 5 ½-furlong turf test Aug. 13. Gleaves and partners decided to think bigger with their maiden.
"We could have drawn into an easier spot in a maiden race that came off the grass," Gleaves said. "That was our original plan, but we put our heads together and thought let's try this one and see how we stack up."
Like Bowie's greatest hits on the corner jukebox.
"I'm the biggest David Bowie fan and always wanted to name a horse Thin White Duke," Gleaves said. "That was one of his stage personas and I thought this is the one."
Add another hit to the charts.
Englehart's day of tragedy and triumph
Five hours after leaving Rood & Riddle Equine Hospital in sadness and dejection, Jeremiah Englehart walked into Saratoga winner's circle in tempered joy.
It is ironic that a horse called Makingcents delivered some consolation for Englehart on the most difficult of days, because how can you make sense of this game?
Englehart's Saratoga Showcase Day started with a front-running win by Samborella in the $150,000 Seeking The Ante, but the $500,000 yearling purchase never even made it back to get her picture taken. Samborella took a bad step just before the finish line and fractured a sesamoid in her left front, necessitating the trip to Rood & Riddle, where she was euthanized.
"I feel bad for everyone who had the chance to work with her because she was a really nice filly and she was special," Englehart said. "The owners entrusted me to take care of her and it just sucks."
The nature of racing often calls for its participants to soldier on, and Englehart had five more horses to saddle on the card. Two of them won, including Makingcents in the $150,000 Fleet Indian Stakes for 3-year-old fillies at nine furlongs on the dirt. Adding to the irony, Richard Nickolai, who races under Fortune Farm, was a partner in Samborella and owns Makingcents outright.
"It's bittersweet," Nickolai said by phone from his home in Saratoga. He had planned to come to the track for the Fleet Indian, but after the tragedy with Samborella, opted to stay home.
"My family wanted to watch the race together so I stayed here. I wasn't in the mood (to come to the track)."
Nickolai said Engelhart told him Makingcents, by Goldencents out of the Cape Town mare Mischief Maker, was sitting on go.
"He told me to expect her to run a big race," said Nickolai, who also owns Makingcents' half-sister, Makin' Out. "She's a gritty filly who has always showed a lot of guts. I didn't know if she was good enough to win but I knew she would put in a good effort."
Having Luis Saez on her back certainly didn't hurt her chances, as the meet's fourth-leading rider won three of the state-bred stakes and four races overall for the second consecutive Friday, to go with his five-win performance Aug. 20.
Saez sent Makingcents to the lead from the rail and led at every call after fractions of :24.48, :48.73 and 1:12.53 and 1:37.24, finishing in 1:50.31.
Makingcents held off a closing Ice Princess on the inside and Sharp Starr on the outside and paid $8.80 to win.
"I'm really happy to have won this race," Nickolai said. "It helps me to keep my head up."
Bred by Windhorse Thoroughbreds, Makingcents was a $37,000 RNA at the 2018 Fasig-Tipton Saratoga New York-bred yearling sale. Because he already owned her sister, Nickolai asked his trainer's brother Jeff to make a private purchase for him. He clearly wanted her, as he was willing to pay $50,000 for her.
"I'm happy to have her," said Nickolai, who is retired and also has a home on Long Island. "She wasn't the most perfect-looking horse, but she's pretty sound. She didn't look the part but as she grows older she has gotten much better."
Makingcents improved her perfect on-the-board record to 6-3-0-3 and boosted her career earnings to $169,820.
On this day, however, the money earned in the 10th race could not even begin to compensate for the life lost in the first.
"It's never easy," Englehart said. "It's like my dad said, 'you're going to get punched in the gut a lot. It's how many times you can get up.' "
Chris Engelhart, who also picked up a training win on the card with Saratoga Pal in the sixth, can be proud that his son has learned his lessons well.
Samborella, purchased at last year's Fasig-Tipton Saratoga New York-bred sale, led throughout the Seeking The Ante and crossed the finish 2 1/4 lengths in front of multiple graded stakes-placed Make Mischief. The ill-fated filly won for the partnership of Gold Square, It's All About The Girls, Paul Braverman, Fortune Farm and Harlow Stables.
Bred by WinStar Farm and out of the Tiznow mare Light And Variable, Samborella finished third in her debut July 24 at Saratoga. – Paul Halloran and Terry Hill
Rinaldi keeps Bond Racing Stable rolling  
It's not uncommon for a trainer to get off to a fast start at Saratoga, only to fade in the dog days of August. Nor is it unusual for one to come out of the gate slow and surge as the calendar approaches Labor Day. This year, Jim Bond has displayed good speed and staying power.
"You didn't hear? They're going to go another 30 days," Bond joked in the winner's circle after Rinaldi went gate-to-wire in the West Point Stakes.
Doesn't he wish.
Bond picked up his first win on the fifth racing day, July 22, and the West Point win gave him 12 for the meet, from only 38 starts (31.6 percent). He has added 11 on-the-board finishes, making for a very good summer for his family operation.
"My wife (Tina) and I spend a lot of time and money to build up a really nice operation," Bond said. "To have this happen in these tough times for a lot of people is just icing on the cake."
Bred by Barry Ostrager and sold to Bond for $5,000 as a weanling out of the 2016 Fasig-Tipton Saratoga October mixed sale, the 4-year-old Posse gelding races for the Bond Racing Stable that includes Craig Allen and John and Amy Pickett (and their son Jacob). Bond named the horse for an Italian wine – as is his wont – but he subsequently learned he has a neighbor with the same last name.
Rinaldi gave his owners reason to uncork a bottle of red or white with a gutsy performance in the 1 1/16-mile stakes for 3-year-olds and up on the turf. Saez sent him to the lead – of course – and the 6-5 favorite carved out fractions of :25.09, :50:39, 1:13.61 and 1:37.29, finishing in 1:43.52. As they turned for home, it looked as if he might get swallowed up by the next three betting choices, but Saez had plenty left in the tank and he won by 1 1/2 lengths over Dot Matrix, with Therapist in third.
"Luis is just amazing," Bond said. "I know this horse on the front end is pretty strong. Luis made the lead and then he backed down going into the turn. They came to him a little bit and he re-broke."
Rinaldi returned to the races in June after a 10-month layoff resulting from stepping on something during training and puncturing his frog, the underside of his foot. Bond said if the wound were much deeper it would have been career-ending and could have been fatal. He credited Dr. Kathryn Dern of Rood & Riddle with nursing the horse back to health.
"We prayed and prayed and prayed, and it's a miracle," Bond said. "I gave him the rest of the year off."
Rinaldi was ready to run in April, but Covid-19 had other plans, so he did not return until June 26 when he ran second in an optional claimer at Belmont. He won a race with similar conditions at Saratoga July 30, setting him up for the stakes try, a year after he ran fourth in the Grade 3 Saranac Stakes.
"This horse has been telling me," Bond said. "He's been working with Prioritize (who runs in today's Grade 1 Woodward Handicap). These two have just been hammering the last three weeks for me. I'm kind of excited to run Prioritize."
Keep the wine handy. – Paul Halloran
Chestertown rebounds in Albany
The Albany Stakes might be the best indication of the success of New York's breeding program, not so much for who's in it as for who isn't.
New York-bred colts Tiz The Law and Ny Traffic were eligible for the 3-year-old stakes on the dirt at 9 furlongs. They would have been major players if not for being occupied in another big race in Kentucky and unavailable for the Albany.
The field of five that did run in the 2020 edition of the $145,500 Albany included four stakes-placed horses with the Christophe Clement-trained City Man established as the 4-5 favorite. Midway in the stretch it looked as if the betting public was going to prove right as City Man and jockey Joel Rosario made their move on the leader, 2-1 second choice Chestertown. But when City Man came within a head of overtaking him, Chestertown found another gear and pulled away to win by three-quarters of a length.
Chestertown was the only entry who came into the race without stakes-placed credentials but that ended with the Albany victory. Ridden by Jose Ortiz, the gray colt by Tapit out of Grade 1-winning New York-bred Artemis Agrotera raced third or fourth throughout most of the trip. He hooked More Graytful at the quarter pole, took the lead int the stretch and held off City Man.
"Down the backstretch and coming into the far turn, my horse wanted to go for the lead," Ortiz said, "but I knew where we were placed I had the other one [City Man] hemmed in on the rail and I wanted to keep him there as long as I could."
Chestertown won for trainer Steve Asmussen and owners West Point Thoroughbreds, Chester and Mary Broman, Woodford Racing, Siena Farm and Rob Masiello. Tom Bellhouse the COO of West Point Thoroughbreds, represented the owners in the winner's circle.
Bred by the Bromans, Chestertown sold for $2 million at the 2019 OBS March 2-year-olds in training sale. He's the first foal out of Artemis Agrotera, who won the Grade 1 Frizette at 2 and Grade 1 Ballerina at 3 for the Bromans and trainer Mike Hushion.
"There's been a lot of expectations of this colt because of what he cost and he's just never quite met them," Bellhouse said. "He's shown flashes so there was always hope. Today in the paddock they told me he's been training like a bear so we were hoping he'd show up, and he certainly did."
The Albany was the second win in eight starts for Chestertown.
"Tapits are often better at 4 and 5," he said. "This was a great first step. As he keeps improving on I don't see why he can't compete in open company down the line."
Jose Ortiz agreed.
"I think he's learning still," he said. "He's got some races under his belt and he's figured it out now. The blinkers helped, too. He'll be better at 4."
Ortiz added another win on the day in the eighth aboard Light In The Sky for Horacio DePaz, while his brother Irad was blanked. He's within one in the jockey's race with three days remaining in the meet.
Can he do it?
"I will catch him," Jose assured. – Terry Hill
Myhartblongstodady goes all the way in Yaddo
Lawrence Goichman's homebred Myhartblongstodady made her stakes debut a winning one, leading the entire 1 1/16 miles of the inner turf course in the $145,500 Yaddo Stakes for fillies and mares. The 5-year-old Scat Daddy mare won by a length from Wegetsdamunnys as the 3-2 favorite.
Myhartblongstodady improved to 4-for-8, a stakes winner for the first time and 2-for-2 under her new trainer Jorge Abreu, who got her after a more than eight-month layoff.
Before the trainer switch from Chad Brown a few months ago, Myhartblongstodady had been running her races from off the pace and at times from way back. Under Abreu, the mare has led at every call in both her last two, both wins coming with Jose Lezcano aboard.
"Jorge's really figured her out," Goichman said. "And today she really showed up. Just give her a lead and say goodbye."
Myhartblongstodady raced only once last year and has just two starts this year. Why has she been so lightly raced? "She gets colds every so often," said Goichman philosophically.
Myhartblongstodady added $82,500 to her bankroll, now at $235,216.
"I've been in the business since 1979 and right now I've got 11 mares," Goichman said. "Generally we keep the fillies and sell the colts. If we think we've got a filly coming we bring her up here so she can be part of this program. It's been great."
Myhartblongstodady is out of the multiple stakes-placed Elusive Quality mare Elusive Rumor, who was also bred and raced by Goichman. Elusive Rumor, whose entire 14-race career was spent in New York, finished third in the Yaddo Stakes eight years ago.
"It's been very exciting and very satisfying," Goichman said.
A bit of a surprise were Myhartblongstodady's odds. She was listed at 12-1 in the morning line, but went off as the favorite, partially because of the scratch of multiple New York-bred champion and graded stakes winner Fifty Five. – Terry Hill
• Maybe Saturday will be a good weekend for Barclay Tagg.
After Saratoga Flash, the even-money favorite, and Bohemian Ruby both ran off the board in Friday's second, the Tagg barn rebounded in a big way when Step Dancer closed from next to last to win the fourth, a maiden special weight for 2-year-olds at 1 1/6 miles on the turf. Tagg acolytes were rewarded with a $50.50 win mutuel.
Pivotal Run ran second, making it an all War Dancer progeny exacta that paid $559 for $1. Sugar Plum Farm bred both, with Richard Pressman a co-breeder on the winner.
"I hadn't ridden him at all," said Robin Smullen, Tagg's assistant, who is minding the store at Saratoga while her partner is off trying to win the Kentucky Derby with Tiz The Law. "Then I rode him two weeks ago and I kind of liked him. Heather (Smullen) was breezing a horse next to him and said, 'That little horse can run.' "
Winning with a first-time starter going long on turf is not necessarily a signature move for Tagg, and Smullen admitted she was mildly surprised.
"I didn't expect him to win," she said, "but I thought he would run well. I didn't think the light bulb had gone off yet."
It certainly didn't look like it as he languished near the back of the 10-horse field down the backstretch, but he started to pick it up on the far turn and when Dylan Davis hit the switch in the stretch, he easily powered to the lead and a 3 1/2-length win.
"You can't rush babies," said Smullen, who will watch the Derby tonight at the home of a Sackatoga partner. "When Dylan asked him, he really responded." – Paul Halloran