Friday, September 4th, 2020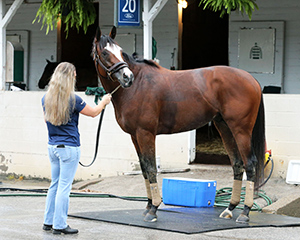 By Melissa Bauer-Herzog
The pair of New York-breds at Churchill Downs preparing for the Kentucky Derby went to work early on Kentucky Oaks Day, coming out at 5:15 a.m. during the special training time set aside for contenders of the middle jewel of the reconfigured 2020 Triple Crown.
The first classic starter for trainer Saffie Joseph Jr., Ny Traffic had an easy 1 ½-mile gallop around Churchill as his final major day of exercise before lining up for Saturday's race. It was the second gallop of the week at Churchill for the Cross Traffic colt, who galloped Wednesday before jogging during a soggy morning Thursday.
The colt was closely watched by trainer Joseph, who enjoyed his first experience in the the top level 3-year-old races last season with Grade 1 Pennsylvania Derby winner Math Wizard. However, this is the first time the Barbados native has had a U.S. classic starter and like many others, he said it was a dream come true to have a starter in the Kentucky Derby.
"The Derby means everything to me," Joseph said. "That's why we came here. We hoped to one day win the Kentucky Derby and now to be in the position where we have a chance, we are very fortunate and blessed. We are just trying to take it all in."
Tiz the Law followed the same exercise plan as Ny Traffic Friday, putting in his first gallop since shipping in on Tuesday. The expected Kentucky Derby favorite had been scheduled to gallop the last two days but rain had delayed the plan and he'd just jogged Wednesday and Thursday.
Trainer Barclay Tagg was pleased with the strong 1 ½-mile gallop and said he'll go for a brief jog the morning of the race. Tagg also gave away some race strategy Friday morning, saying race viewers will see Tiz the Law in a prominent position Saturday evening.
"He had a very nice gallop," Tagg said. "Right speed. Everything was comfortable. He pulled up nicely and came back nicely. We're all good. He'll jog once around tomorrow. I'd like for us to be laying third [in the Kentucky Derby] all the way around until we get down for business. I'm very confident in our horse. He's a very nice colt. I hope he wins it. He's a good horse, good horses do good things."
The Kentucky Derby is set to air on NBC tomorrow afternoon with the race having a scheduled post time of 7:01 p.m.