Sunday, June 14th, 2020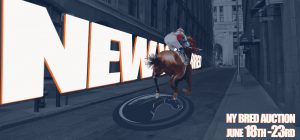 Bloodstockauction.com has announced that it will conduct an online auction dedicated to New York-breds next week. The catalog will be released and open for bidding at 7:00pm ET on Thursday 18th June 2020, with the final countdown commencing at 7:00pm ET on Tuesday 23rd June 2020.
Press release from Bloodstockauction.com
2020 will be long be remembered as the year that has thrown up more challenges than any other in recent history.
With so many disruptions and uncertainty within the horse racing and breeding industry, companies have been forced to look at new and innovative ways to conduct their business online.
If COVID-19 has taught us anything, it's that organisations that are responsive to change, and use new technology, have gained an advantage over their competitors.
One new concept that has been gaining a lot of attention recently has been the launch of online thoroughbred auctions.  Having said that, online thoroughbred auctions are not new, and have been operating successfully in other regions around the world for more than 5 years.
The leader in the online thoroughbred auction space is a company called Bloodstockauction.com. Bloodstockauction.com was founded in Sydney, Australia and commenced their first auction in late 2014, and since then has conducted more than 250 successful online thoroughbred auctions.  The high demand for its services in Australia and New Zealand has resulted in auctions being held there on a weekly basis, with 100+ hips offered each and every week.
It's not difficult to see why online auctions have gained so much support.  Online auction platforms operate 24/7 and expose the horse to a much wider audience.  They are not affected by external events, and they are much more cost-effective compared to traditional live auctions.  There is no requirement to ship horses, which reduces the risk of injury to the horse.  Horses are only transported once they are sold.
Online auctions are open for bidding for 5 full days, which means that there is plenty of time for buyers to organize inspections and complete vet checks prior to placing their bids.
Bloodstockauction.com has listed more than 17,000 thoroughbreds, and with a clearance rate of over 73%, this is a testament to the support their auctions attract from their loyal members.
Their success online has even attracted leading stud farms, Arrowfield and other large commercial studs, who have recently held their own dedicated yearling, weanling and broodmare sales through Bloodstockauction.com.
The good news is that Bloodstockauction.com has now launched its services here in the USA, with auctions being conducted on a monthly basis to start.  Their catalogs are released and open for bidding with an auction held every month.
This week Bloodstockauction.com is holding a dedicated New York Bred Yearling Sale to support the breeders of New York.  The catalog will be released and open for bidding at 7:00pm ET on Thursday 18th June 2020, with the final countdown commencing at 7:00pm ET on Tuesday 23rd June 2020.
So if you have New York Bred Yearlings that you need to move on, now's the time, no need to wait until the end of the year.
Perhaps it's time to embrace the future and put your New York Breds under the online hammer with Bloodstockauction.com.
Call them today on 1800 501 0218, and start a new tradition.