Monday, January 27th, 2020
By Sarah Mace
Dot Matrix, owned by Marshall Gramm's Ten Strike Racing and trained by Brad Cox, has just turned seven and never been better. On Sunday at Sam Houston Race Park the gelded son of Freud (Sequel Stallions New York) delivered a career performance scoring a confident stalking victory in the Grade 3, $200,000 John B. Connally Turf Cup under Florent Geroux.
The Connally Turf Cup, a three-turn, 1 1/2-mile turf contest, represented the longest distance Dot Matrix had faced to date, but he was headed in that direction. In his final start of last year, he ran a solid third to Sadler's Joy in the 1 3/8-mile Red Smith, which was his graded stakes debut. The Connally was also was Dot Matrix's first start at Sam Houston, but he had won before on diverse tracks, including Fair Grounds, his winter base, Keeneland and Indiana Grand. He was sent off as the 3-1 third choice in the bulky field of 10.
Following a vigorous warmup, Dot Matrix exited post seven alertly and set up in second position at the flank of speedy first-time turf runner Sleepy Eyes Todd to lead the first flight – a close-packed group of six.
The top two held sway through the first mile, as the pace – predictably for the distance and "good" condition of the turf course – moderated. A 52.45 half-mile preceded a mile in 1:43.98.
Dot Matrix engaged Sleepy Eyes Todd in the approach to the third turn and took control. When he angled out at the head of the home stretch, he held a one-length lead. Marzo, the 5-2 favorite, moved with him.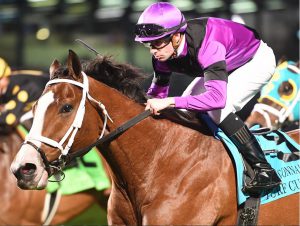 A rallying Bemma's Boy, made a run at at the bay in deep the stretch, but made up little ground before Dot Matrix drove under the wire with a three-quarter-length victory in a final time of 2:33.46. Bemma's Boy, who was the second betting choice, finished a half-length in front of Marzo in third.
New York-bred Cross Border was scratched from the field. Contesting the Grade 3 W. L. McKnight Stakes at Gulfstream Park on Saturday, he did everything but win for trainer Mike Maker and owner Three Diamonds Farm, leading into deep stretch and nailed on the line by longshot winner Spooky Channel.
Florent Geroux said in his post-Connally interview, "I found a nice cozy spot in the two-path. I just had to make sure I didn't move too soon."
Tessa Bisha, assistant to trainer Brad Cox, said, "He's just the consummate professional. This horse is very classy, and he takes his job very seriously. When I saw the half in :52 and change and he was up there pretty close to the front, I knew that was a great spot for him. He tends to be pretty one-paced. He'll close sometimes, but today he was in the perfect spot."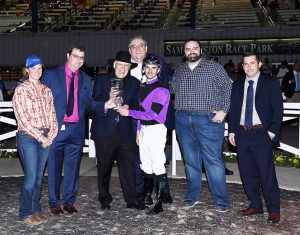 A consistent runner for Abby Adsit in 2016 and 2017, Dot Matrix joined Brad Cox's barn for his final start of 2017. Since then he has won seven of 14 starts, including his first stakes victory in the Warrior Veterans Stakes in 2018 at Indiana Grand, the Ashley T. Cole for state-breds at Belmont in September 2019 and his graded victory in the Connally on Sunday.
For his career, Dot Matrix has won ten times in 31 starts, with four seconds and five thirds. His earnings total $601,487.
Bred by Truxton Stables and foaled at Winslow Stevens and Philippe Lasseur's Keane Stud in Amenia, Dot Matrix is one of five winners from six foals to start out of six-time winner Kentucky-bred Aunt Dot Dot by Gulch. Aunt Dot Dot's second foal, PA-bred Aunt Ellipsis by Successful Appeal, is also a stakes winner.
Aunt Dot Dot's most recent foal is a 2017 filly by Normandy Invasion named Dash Dot Dot. She was bred last year to Sharp Azteca.