Thursday, December 12th, 2019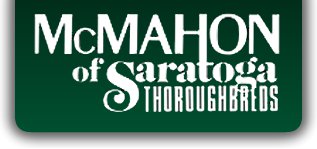 McMahon of Saratoga Press Release
Saratoga Springs, NY—McMahon of Saratoga Thoroughbreds announced today their annual stallion show will be held Saturday, December 21 from 12:00 to 3:00 p.m. Breeders will be able to inspect McMahon's latest stallion addition, Solomini, a multiple G1 2YO by 2-time Horse of the Year Curlin. Just added to the roster last week, Solomini leaves Kentucky Friday for New York.
"Solomini is by far is the most precocious son of Curlin," commented McMahon, "Solomini made 4 starts at 2, winning his debut at Del Mar, followed by runner-up performances in the Breeders' Cup Juvenile-G1, FrontRunner S.-G1 and in his last start at 2, Solomini finished the race first but was disqualified in a controversial decision in the Los Alamitos Cash Call Futurity-G1." His trainer Bob Baffert commented, "It's really too bad they took him down, he was the better horse today."
Joining him for his first season at McMahon is Redesdale, previously standing at Hidden Lake, his first year at stud was 2019. "Redesdale bred 81 mares in 2019," added McMahon, "with his breeding, being by Speightstown and out of a graded-stakes winning full sister to Danehill, there is just loads of upside to him."
Top four second crop North American sire by cumulative dirt earnings Central Banker leads the list in stud fee at $7,500, Solomini will stand for $6,500, Redesdale at $5,000 and champion sire Teuflesberg will be $3,000. All fees are live foal.
Light refreshments will be served. For details contact McMahon of Saratoga Thoroughbreds (518) 587-3426.