Tuesday, January 8th, 2019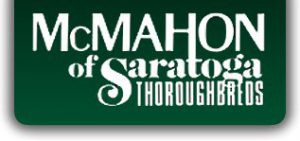 (Edited press release)
McMahon of Saratoga Thoroughbreds has released its 2019 stud fees and added details about the farm's January 19 Open House.
Standing at McMahon for $7,500 live foal is New York's leading 2-year-old sire of 2018 Central Banker. Progeny of the graded stakes-winning son of champion Speightstown surpassed $1 million in earnings last year, the highest for a New York Sire since City Zip in 2005. His top earner Bankit ($329,625) won the $250,000 Sleepy Hollow S. at Belmont by 5 3/4 lengths, finished second in $200,000 Funny Cide S. and was second by a head in the $400,000 Remington Springboard Mile S. Bankit is the leading money-winning colt by a first crop stallion in 2018.
Champion sire Teuflesberg is a top-five New York Sire by lifetime average earnings at $60,540 and will stand for $5,000.
New York's leading second crop sire and top ten sire of 2-year-olds in 2018 Forty Tales will stand for $3,000.
Joining several other farms in the Saratoga area on January 19 (Irish Hill/Dutchess Views and Questroyal Stud), McMahon will host a Stallion Open House from 10 a. m. to 4 p. m., allowing breeders the opportunity to see as many stallions as possible that day.
For more information please contact Joe or John McMahon (518) 587-3426.