Saturday, November 17th, 2018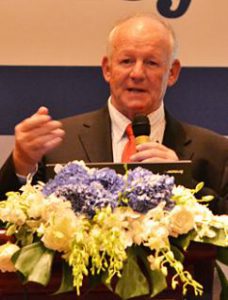 By Sarah Mace
Dr. Stephen G. Jackson, a leading equine nutrition consultant and the president and owner of Bluegrass Equine Nutrition in Versailles, KY, will be the featured speaker at New York Thoroughbred Breeders' Inc. (NYTB) Breeding Industry Educational Series Seminar "Focus on Nutrition: Feeding to Raise an Athlete." The seminar-style meeting will take place on Saturday, December 8 from 9 a.m. to 12 p.m. at the Fasig-Tipton Sales Pavilion in Saratoga Springs.
The New York State Thoroughbred Breeding & Development Fund Corporation is the sponsor of this free event. Attendees should RSVP to the NYTB office by December 3 at (518) 587-0777 or info@nytbreeders.org.
A native of Lubbock, Texas, Dr. Jackson earned his Bachelor of Science in Animal Science at Texas A&M University, before going on to complete a Ph.D. in Equine Nutrition and Exercise Physiology from the University of Kentucky. He taught for 12 years at the University of Kentucky while focusing his research on Equine Growth and Development, Exercise Physiology and Nutrition of the Equine Athlete.
Moving to the public sector, Dr. Jackson served as the vice president of Kentucky Equine Research in Versailles from 1990-96, before assuming his current position as president and owner of Bluegrass Equine Nutrition, also in Versailles.
Dr. Jackson acts as consultant for horse farms in the areas of horse nutrition and management and feed manufacturers in the formulation of horse feeds. He has lectured and consulted throughout the U.S and in over 50 countries across the globe.
Dr. Jackson's clients are a veritable who's who of leading farms in the United States, Japan, England, Ireland, Brazil and Australia. His Kentucky clients include Darley, Lanes End, Three Chimneys Farm, Pin Oak Stud, Taylor Made Farm, Sienna Farm, Juddmonte Farm and Denali Stud. In California he has consulted Harris Ranches, Tommy Town Farm, Ballena Vista Farm and Megali Stud. Internationally his clients include Darley (England, Ireland and Japan), North Hills Management in Japan, Stud TNT in Brazil and Coolmore (Ireland and Australia).
Owner of Jackson Purchase Farm in Versailles Kentucky, Dr. Jackson also breds for the commercial market and race track.