Wednesday, October 31st, 2018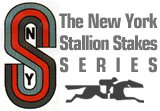 (NYRA/NYTB press release)
In 2019, purses for the 10-race series restricted to the progeny of nominated New York stallions and contested on NYRA racetracks will double from $1,150,000 to $2,300,000.
Purses for all 10 races will see increases with The Great White Way for juvenile males and the Fifth Avenue for juvenile fillies, to be run at Aqueduct in December 2019, becoming the richest sire stakes races in the country with purses of $500,000 each.
"This purse enhancement is the result of a diligent process with our partners in New York racing and I appreciate the leadership of John Poklemba of The Fund and Jeff Cannizzo from the NYTB to get this over the finish line," said Martin Panza, NYRA's Senior Vice President of Racing Operations. "Continuing to find new and innovative ways to incentivize the owners and breeders who fill our races is paramount to the ongoing success of New York racing."
Funding for the enhanced NYSSS purse structure comes from The Fund which distributes "Purse Enrichment" annually.
Jeffrey Cannizzo, Executive Director of the NYTB which administers the NYSSS series, said, "I sincerely want to thank The Fund and NYRA for agreeing to this proposal which dramatically enhances the Stallion Stakes Series and creates the most lucrative sire stakes for two-year-olds in the country. Directing The Fund's 'Purse Enrichment' to New York-sired horses will, I believe, have both immediate and long-term positive effects on the state's breeding and racing industries."
The purse hike will directly benefit all participants in the New York breeding and racing programs starting with the owners of New York-sired horses, who already derive added value from the racing opportunities afforded by the NYSSS. Owners will see an increase in their bottom lines both from bigger purses and the opportunity to earn larger "Open Owner's Awards" from The Fund. Currently, New York-sired horses who finish first through third in open races, and races like the NYSSS which are not otherwise restricted to New York-breds, earn 20% on top of purse earnings.
In addition to the purse increase for the juvenile races from $150,000 to $500,000, purses for the other eight races will increase as follows in 2019:
the Times Square and Park Avenue divisions for 3-year-olds of both sexes to be run at Aqueduct will be worth $200,000 (up from $100,000);
four turf races for 3-year-olds, which are run in pairs at Belmont and at Saratoga (Spectacular Bid and Cab Calloway for males and Cupecoy's Joy and Statue of Liberty for fillies) will be worth $150,000 (up from $100,000);
a pair of sprints for older horses run at Aqueduct (the Thunder Rumble for males and Staten Island for fillies and mares) will be worth to $150,000 (up from $125,000).
NYSSS Race Schedule for 2019 – $2,300,000
April    Park Avenue Division                 F 3YO  6 1/2 Furlongs  $200,000
April    Times Square Division               3YO     6 1/2 Furlongs  $200,000
June     Spectacular Bid Division          3YO     7 Furlongs (Turf)   $150,000
June     Cupecoy's Joy Division            F 3YO  7 Furlongs (Turf)   $150,000
Aug      Cab Calloway Division              3YO     1 Mile (Turf)      $150,000
Aug      Statue of Liberty Division         F 3YO  1 Mile (Turf)    $150,000
Nov     Staten Island Division               F&M 3&UP     7 Furlongs        $150,000
Nov     Thunder Rumble Division         3&UP             7 Furlongs       $150,000
Dec      Fifth Avenue Division               F 2YO  7 Furlongs        $500,000
Dec      Great White Way Division        2YO     7 Furlongs        $500,000
Breeders of New York-sired New York-breds and stallion owners will also benefit from the opportunity to earn increased fund awards. New York-sired New York-breds earn 30%, 15% and 15% in "Breeders Awards" for first, second and third-place finishes, which is 50% more than the Breeder's Awards for out-of-state-sired New York-breds. "Stallion Owner's Awards" are allotted at 10% each for progeny that finish first through third. On the bloodstock side, New York-sired foals will gain added value in the sales ring for their increased earnings potential.
"Doubling the purse value of the New York Stallion Stakes Series through The Fund's 'Purse Enrichment' money will benefit owners, breeders and the bloodstock market, starting immediately. Having an additional $1,150,000 in quality black-type earnings on the table could also have a wide-ranging effect on the landscape of the stallion business in New York," said Cannizzo. "New York-bred juveniles will have a greater built-in added value when they enter the sales ring in the first few months of 2019. My additional hope is that the enhanced NYSSS program will incentivize stallion owners to consider bringing stallions to the state. The racing opportunities, purses and awards in New York for a stallion's progeny are second to none. This move could help enhance the quality of the stallion population and provide a stronger magnet for attracting quality mares to New York."