Wednesday, September 12th, 2018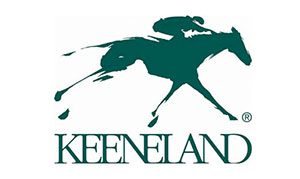 By Sarah Mace
Only two New York-breds went through the ring during Tuesday's second session of the 2018 Keeneland September yearling sale, but both proved highly attractive to bidders, selling to top-tier owners for $360,000 and $285,000, respectively.
Jim and Susan Hill, who in Session 1 purchased Hip 145, a New York-bred Lea colt bred by SF Bloodstock for $255,000, went to $360,000 to acquire the top New York-bred in Tuesday's second session, a chestnut filly by Candy Ride (ARG) bred by Pine Ridge Stables Ltd and foaled on May 7, 2017.
Sold as Hip 447 from Gerry Dilger's Dromoland Farm consignment, the chestnut filly is out of Stealthy, a winning Kentucky-bred Forest Wildcat mare. Stealthy's lone foal to start, a gelding by Looking at Lucky named Lucky Enuff, has not yet won, but two other offspring have been appraised highly in the sales ring. Her New York-bred Flatter colt American Frontier brought $200,000 from Ben Glass, agent, at the 2015 Keeneland September sale. A New York-bred juvenile by Uncle Mo named Mo Stealthy was a $170,000 buyback at the same sale last year.
Stealthy is a half-sister to Bayou Mist, dam of multiple stakes winner Selva (Forest Wildcat). Selva, in turn, is the dam of Coltandmississippi, a graded stakes performer who contested the Jerome and Withers Stakes on the Kentucky Derby trail this year.
Also on Tuesday, Rick Porter's Fox Hill Farm took home Hip 465 — a first-crop Bayern colt bred by SF Bloodstock LLC — after making a winning bid of $285,000.
Foaled on February 27, 2017 and consigned by Peter O'Callaghan's Woods Edge Farm, Hip 465 marked himself as a standout when unveiled to the public as a weanling at the Keeneland November breeding stock sale last year, where he was purchased by Rocco Bloodstock for $200,000.
The Bayern colt is a half-brother to My Happy Face (Tiz Wonderful), a graded stakes winner and earner of over a half-million dollars, and his pedigree page is riddled with black type and familiar names through the first three generations.
The sale colt's dam Summer Star is a California-bred stakes winner who has produced three other winners besides My Happy Face from as many to start. Summer Star is also a full sister to stakes winner Summer Sensation. Under the colt's third dam Forumstar are graded winner and Santa Anita course record-setter Starry Ice, as well as stakes winners Champs Star and Distinguish Forum. Starry Ice is also the dam of Grade 1 Carter Handicap winner Forest Danger.
The Keeneland September Sale continues through Sunday, Sept. 23, with the third of four Book 1 sessions beginning Wednesday at 1 p.m. The Thursday session also will begin at 1 p.m.
New York-breds catalogued for the Keeneland sale (listed by hip number and dam with links to catalogue pages), may be found here.