Friday, July 27th, 2018
By Sarah Mace
The New York Thoroughbred Breeders, Inc. (NYTB) presented its two annual scholarships, the Gerald A. Nielsen, Sr. and Debby Malloy Winkler Scholarships, in the Saratoga winner's circle after the fourth race on Friday, July 27.
Established by Mrs. Joanne Nielsen to honor her late husband Gerald A. Nielsen, Sr. and by Mrs. Vivien Malloy to honor her late daughter Debby Malloy Winkler, these $5,000 scholarships recognize a full-time student enrolled in an equine-related course of study at an accredited college or university in New York State. The scholarships are intended to foster the education and development of individuals who show the promise of making make a positive contribution to the thoroughbred industry in New York and beyond.
Receiving the 2018 Gerald A. Nielsen, Sr. Scholarship was Lauren DeGennaro, who recently completed her third year at Cornell University College of Veterinary Medicine. Mrs. Nielsen and Jeffrey Cannizzo, Executive Director of the New York Thoroughbred Breeders, made the presentation.
Valedictorian of the Class of 2009 at Sacred Heart High School in Waterbury, CT, DeGennaro went on to graduate cum laude from Boston College in 2013 as a Biochemistry major with a minor in Theology, DeGennaro expects to complete her graduate work at Cornell in 2019.
DeGennaro is active in community service, working as a student clinician at the Southside Cornell Healthy Pet Clinics, which serve clients twice below the federal poverty line, and as a volunteer at Hidden Acres Therapeutic Riding Center in Naugatuck, CT. While at Cornell DeGennaro has also worked as a student research assistant and veterinary assistant.
"I am so grateful to the NY Thoroughbred Breeder's, Inc. for awarding me the Gerald A. Nielsen, Sr. Scholarship," DeGennaro said. "Equine theriogenology (i.e. reproduction) is an aspect of equine medicine that I have become very interested in, especially from my clinical rotations at Cornell and from what I have seen and learned during my various externships. This scholarship a wonderful gift that will definitely help me achieve my professional goals to become a competent and compassionate equine practitioner.
*
Selected to receive this year's Debby Malloy Winkler Scholarship was Rudy Weitze, who will be a junior next year at Cobleskill College.  Mrs. Vivien Malloy made the presentation.
A native of Kingston, New York, Weitze is an Agricultural Business major at Cobleskill with an interest in agricultural marketing, in particular stallion promotion. An active participant in the Agricultural Business Club as its Vice President, Weitze has also worked at Racebrook Stables in Esopus for four years. He hopes to establish his own breeding operation in New York and is interested some day in running for State Senate, where he would "work for the advancement of the thoroughbred industry."
"I'm very grateful to be receiving this scholarship from the Debby Malloy Winkler family and the New York Thoroughbred Breeders Inc.," said Weitze. "This award will allow me to continue my education and achieve my end goal of becoming a thoroughbred breeder in New York."
Weitze also has his mind on recruiting new racing fans. "Thoroughbred racing truly means the world to me. If you bring someone to the racetrack for a day, you can make them a fan for life. This scholarship not only opens up doors for myself, but for those around me. I hope to become a leader who will work for the greater good of the industry and set new standards of excellence in thoroughbred breeding."
*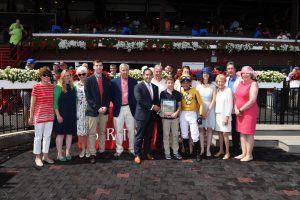 *
Previous recipients of the Gerald A. Nielsen, Sr. New York Thoroughbred Breeders, Inc. Scholarship:
2012 Jacqueline Pino (read more)
2013 Allison Tuchrello (read more)
2014 Kaitlyn Douglas (read more)
2015 Tate Morris (read more)
2016 Cassandra Cromer (read more)
2017 Rachel L. Hilliard (read more)
Previous recipients of the Debby Malloy Winkler. New York Thoroughbred Breeders, Inc. Scholarship:
2014 Nicolina Foti (read more)
2015 Courtney O'Connell (read more)
2016 Natasha Tarnawa (read more)
2017 Ella Mariah Pittman (read more)