Thursday, June 14th, 2018
By Sarah Mace
A group of owners and friends of late New York trainer and breeder Glenn DiSanto honored his memory on June 9 by dedicating a plaque for him at the Oklahoma training track at Saratoga Racecourse. The plaque is affixed to the outside rail.
Speaking for the group, DiSanto's friend John Veitch reported, "A few of [Glenn's] former owners thought a memento would be appropriate. A plaque was decided upon, and NYRA was generous in covering all costs and work involved. The owners contributed the equivalent cost of the plaque to B.E.S.T. in September 2017."
B.E.S.T. is an acronym for the Backstretch Employee Service Team, a nonprofit organization which provides free health and social services to the backstretch communities at the Aqueduct, Belmont and Saratoga Racetracks.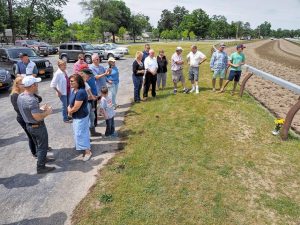 A native of Carmel, New York, DiSanto graduated from the horse management program at the State University of New York at Cobleskill. He started in the equine business with show horses at West Creek Farm in Sharon Springs, where he began his involvement with the state breeding program. He then purchased Summit View Farm in Greenwich in 1984 as a base for his breeding and boarding business.
DiSanto, who succumbed to cancer on Saturday, January 14, 2017 at the age of 62, trained on the New York Racing Association circuit for more than three decades, saddling his first winner in 1991 when Hildaskova captured a maiden claimer at Aqueduct Racetrack. His last winner was in 2015 with Lotza Heat at Belmont Park.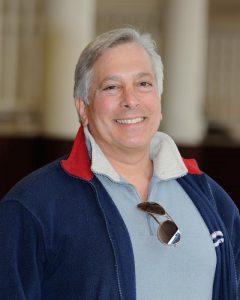 DiSanto, who was one of the pioneers in the use of the Oklahoma Training Track during the offseason at Saratoga Race Course, was also well known for his advocacy for retired thoroughbred horses.
"He was a big supporter who did a lot for us," said Lisa Molloy, an executive director at Rerun Thoroughbred Adoption. "He was one of the best horsemen around," she added. "He never lost his temper with anything. He always knew what he was doing, and the animals just loved him."
Virtually everyone who came in contact with DiSanto recalls his upbeat demeanor and warm personality. Most echo the sentiments of NYRA steward Braulio Baeza, Jr., who said at the time of DiSanto's passing, "Glenn was one of the nicest people and one of the few on the backstretch who would help you with whatever you needed in any way he could."
Michael Veitch, celebrated racing columnist for the Saratogian, began his obituary for DiSanto as follows: "The warmest smile in New York racing will be missing from the Oklahoma Training Track backstretch this coming season." Later in the column, Veitch referred to "the honest soul that lived within Glenn" and described him as "a blessing to his family and to those around him at the barn."