Wednesday, April 25th, 2018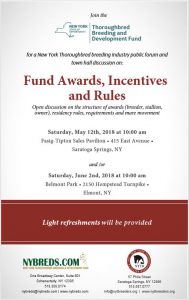 To All Participants in the New York State Breeding and Racing Program:
In the coming weeks the New York Thoroughbred Breeding and Development Fund (the Fund) will host two public forums for the breeding and racing industries, one in Saratoga Springs and one at Belmont Park. The aim is to elicit feedback from a broad spectrum of program participants about New York awards incentives and program rules.
Over the years, one constant for the Fund board has been engaging in dialogue with stakeholders. It is not unusual either for program participants' feedback to spark spirited discussion at board meetings. That said, stakeholders do not, as a rule, reach out to the Fund Board to talk about what aspects of the program they support or think are working well. Generally, the people who speak out are advocating for various program tweaks. Moreover, the Fund has come to realize that most input comes from a relatively small group of voices.
The upshot is that, in order to serve all its stakeholders, the Fund board – on which I am the NYTB appointee – decided to create opportunities this spring for a greater number of interested parties to voice their opinions.
At this upcoming pair of town hall-style meetings, the Fund hopes to hear from a wide range of program participants. Issues likely to be covered include the structuring and percentages of the categories of awards (breeder, stallion owner, owner), the status of New York's stallion roster and rules covering mare residency and breed-back. You can see a preview of some prospective topics by taking the Fund's brief online survey.
The first public forum will take place on May 12 at the Fasig-Tipton Humphrey S. Finney Pavilion in Saratoga Springs. The second will be on June 2 at Belmont Park. Both meetings will begin at 10:00 a.m. and light refreshments will be provided.
Click here for program flyer.
I would like to assure program participants, that no program changes are in the works. These forums and the Fund survey are simply part of a fact-finding mission so that the Fund board can get a clearer idea of the needs, opinions and suggestions of a broad cross-section of constituents. That said, the incentive program affects the lives and businesses of all, so I believe all participants should listen to what fellow stakeholders are thinking and make their views known.
I strongly urge you take the survey and to attend one or both meetings to listen and make your voice heard. I hope for a good turnout at both events and look forward to a lively and informative exchange of ideas.
Sincerely yours,
Jeff Cannizzo