Wednesday, April 25th, 2018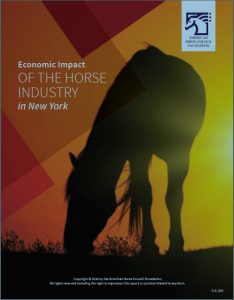 (Joint press release from NYTHA, NYTB & NYS Thoroughbred Breeding and Development Fund)
Horses are big business in New York. The American Horse Council Economic Impact Study, published earlier this month, shows that the state's Equine Industry has grown by $1.1 billion and added nearly 10,000 jobs since the New York Horse Racing and Agriculture Industry Alliance's New York State Equine Industry Economic Impact Study of 2012. There are more than 154,000 horses stabled in New York.
The Equine Industry is the second largest agribusiness in New York, providing the state with $5.3 billion in economic impact, a 26% increase in the last five years and an eye-opening 121% growth rate since a study conducted in 2005. Employment opportunities in the industry have expanded by 28% since 2012, with horses generating 42,400 full-time jobs for New Yorkers. The horse industry also does its part for the preservation of green space. Approximately 1.3 million acres are currently used for horse-related purposes, and the equine industry is active in every one of New York's 62 counties.
Thoroughbreds account for the largest segment of the state's horse population, numbering more than 39,000.
"We are a labor-intensive industry," said Joe Appelbaum, president of the New York Thoroughbred Horsemen's Association, which represents more than 4,000 Thoroughbred owners and trainers. "That is particularly true of the racing industry, which boasts 80 jobs for every 100 racehorses. Horses are an invaluable asset for New York, and a thriving Equine Industry is vital to the state's economy."
State Senator John Bonacic, Chairman of the Senate Committee on Racing, Gaming and Wagering said, "The thriving equine industry in New York generates billions in economic impact and thousands of jobs for everyday New Yorkers, due in part the work of the Thoroughbred Horseman's Association, New York Thoroughbred Breeders and the New York Thoroughbred Breeding and Development Fund. As Chairman of the Senate's Racing, Gaming and Wagering Committee, I have worked hard to ensure that New York's racing industry remains strong, and will continue to work with all the industry's stakeholders to ensure its sustained vitality."
New York State Assembly Racing & Wagering Committee Chair J. Gary Pretlow remarked, "As a result of the substantial economic impact provided by our equine industry, New York has garnered the reputation as one of the leading horse racing states in the country.  My colleagues and I look forward to continue working with the industry leaders in further enhancing its applauded contributions."
The racing sector of the Equine Industry is particularly robust, with a $3.08-billion total impact on the New York economy and $1.73 million in direct value while supporting 19,704 jobs. The numbers take into account direct expenditures (e.g. breeding, maintenance, training, insurance, veterinarians, jockey fees, transportation, etc.) plus indirect/induced economic expenditures (e.g. totalizer companies and other wagering technology, infrastructure, broadcasting, television, food and beverage concessions, track maintenance and security).
New York is one of the largest horseracing hubs in the United States, as highlighted by the AHC Study, with 11 racetracks throughout the state as well as hundreds of breeding farms and training facilities. Saratoga Race Course, one of the pre-eminent and oldest tracks in the country, attracts more than 1 million visits a year. In total, New York hosts 1,294 race days annually, offering purses of $289 million and generating $3.4 billion in handle.
"Once a confidence level was reached by Thoroughbred breeders and owners regarding our purses and incentive awards, our State-bred program positioned itself ahead of the rest of the national landscape," said New York Thoroughbred Breeders Executive Director Jeffrey Cannizzo. "New York-breds are in demand in the marketplace, farms have reopened across the state and people are investing again in New York. This renaissance is creating hundreds of jobs and injecting needed revenue into communities across our state of New York."
Cannizzo added, "Because incentive awards and lucrative purses have increased competition in the sales ring for top-tier New York-breds, breeders are putting extra resources and effort into breeding better horses. The quality of horses continues to improve in the sales ring and on the racetrack. In 2017, 16 New York-breds scored wins in 19 graded stakes, with three of those victories coming at the Grade 1 level across the globe."
Tracy Egan, Executive Director of the NYS Thoroughbred Breeding and Development Fund, noted that the AHC findings line up with the improving picture for the state's breeding industry.
"In 2017, breeders helped put 1,705 Thoroughbred foals on the ground in New York," Egan said. "Those foals represent a 4.7% year-to-year increase in the foal crop, and a nearly 40% increase since 2011. Significantly, the increase in the number of foals occurs as the industry nationwide experiences a decline in foal crops. And the quality of New York-breds is now firmly established as year after year they win Graded and Group Stakes around the world. Currrently, New York-bred Audible confirms the trend will be a lasting one as he is one of the favorites for the Kentucky Derby on the first Saturday in May."
Appelbaum concluded. "The AHC Economic Impact Study clearly demonstrates that the investment made in Thoroughbred racing and breeding through our share of VLT revenue has borne fruit. We thank Governor Andrew Cuomo, Senator John Bonacic, Assemblyman Gary Pretlow and all of our representatives for their support, which has helped to make our industry strong."
Click here for the complete New York Break-Out Report from the AHC Equine Industry Economic Impact Study.
Click here for the highlights from the New York Break-Out Report.