Saturday, September 22nd, 2018
By Sarah Mace
Last September when Backwards Stable's Fire Key shipped to Laurel Park with high hopes to contest the $100,000 Sensible Lady Turf Dash, she had to return to Belmont with a second-place finish to show for her efforts. On Saturday the 5-year-old daughter of Friesan Fire put that near-miss in the rear view, when she held off late challengers at each flank to win the race at odds of 11-1.
The reason that the accomplished Fire Key was sent off at relatively long odds was that her form was significantly dirtied up. Following a strong runner-up finish in an open allowance to kick off her 5-year-old campaign, she suffered three defeats by double-digit lengths in three Saratoga starts – each apparently worse than the last – but each involving more-then-legitimate excuses.
On July 23, when she was beaten more than sixteen lengths in the Caress Stakes, the race was run over a turf course labeled "soft" (aka boggy), which was evidently was not at all to her liking. On August 12 she fared even worse in an open allowance that was taken off the turf and clearly not her game. In the Smart N Fancy Stakes on August 26 Fire Key had an absolutely nightmare trip, brushing a fallen rival and finishing 25 lengths behind the winner.
Prior to this trio of tough outings Fire Key finished only once out of the exacta in nine starts and won the open Autumn Days Stakes last November 26. She clearly belonged with this group and trainer Pat Kelly had her teed up to make amends for everything.
Ridden by Julian Pimental Saturday, Fire Key was unhurried after the break, settling in the two path near the back of the 10-horse field while 99-1 longshot Daylight Ahead and odds-on favorite Smiling Causeway vied for the lead while carving out moderate opening splits of 23.87 and 49.44.
Gearing up in the approach to the turn and beginning to pick off rivals while rounding the bend, Fire Key fanned out six-wide into stretch. She ran down the front runners and poked a head in front, but there was still some work to do.
Fire Key was set upon on both sides in the final furlong. Compelled, the 5-2 second choice who was shuffled back early, closed rapidly on her outside flank. Fear No Evil made a serious bid at the rail.
Caught between a rock and a hard place, Fire Key never faltered, digging in gamely and keeping a nose in front at the wire. Compelled in second finished a head in front of Fear No Evil. The final time for six furlongs over the "good" Fort Marcy Turf Course was 1:14.96.
Pat Kelly, a Maryland native – albeit well-traveled – remarked first that he always enjoyed the chance to come "back home."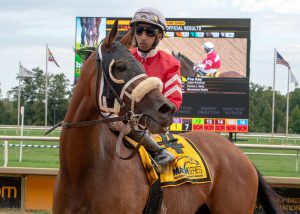 Continued Kelly, "[Fire Key]'s been very sharp the last couple years. We came down here last year and just missed in this race. The plan was to try and get back this year and it worked out."
Summing up the nail-biting photo finish, Kelly said, "She doesn't win by much, but she's gutsy."
Fire Key, who was foaled at Sun Valley Farm in Ballston Spa, is out of U R Key, an unraced Backwards Stable homebred by Albert the Great. Her second dam Sugar Key (Missionary Ridge GB) was bred in New York by Jill Rich and Edward Michaels II.
U R Key's first first foal Masterkey (Will He Shine) is a Finger Lakes-based six-figure earner. Currently the mare has an unnamed juvenile filly by Emcee, a weanling colt by Micromanage and was bred to Mr. Z in 2018.
Fire Key's second stakes victory improved her career record to six wins, seven seconds and third from 21 starts, and boosted her earnings to $426,035.