Thursday, November 23rd, 2017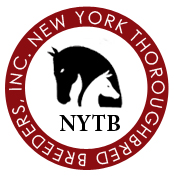 By Sarah Mace
A quartet of specialists and experts will gather from near and far to speak at the final seminar of NYTB's 2017 New York Thoroughbred Breeding Industry Educational Series, "Know the Facts and the Fix: Foal Diseases and Foot Management."
The lineup of distinguished speakers consists of: Dr. Scott Morrison DVM of Rood and Riddle Equine Hospital in Lexington, Kentucky, Dr. Shawn Morrell DVM of Rood and Riddle Equine Hospital in Saratoga, Dr. Laura Javsicas VMD, DACVIM of Rhinebeck Equine and Ray Galluscio, a farrier well-known to Hudson Valley farms and the New York Racing Association racing circuit.
The seminar, which, like the entire series, is sponsored by the New York State Thoroughbred Breeding and Development Fund, will take place on Saturday, December 9 at the Fasig-Tipton Sales Pavilion from 9:00 a.m. to 1:00 p.m. The meeting is free of charge and includes a complimentary lunch and continental breakfast. Those who wish to attend must RSVP to the NYTB office by December 4 at (518) 587-0777 or info@nytbreeders.org. (See further below.)
NYTB's most well-traveled guest speaker is Dr. Scott Morrison. A graduate of the Eastern School of Farriery who built a successful farrier business, Dr. Morrison next attended the Virginia Maryland Regional College of Veterinary Medicine and, upon graduation, served a one-year hospital internship at Rood & Riddle before being hired by hospital as an associate veterinarian.
Now a partner at Rood & Riddle, Dr. Morrison developed the hospital's Podiatry Center, an internationally-recognized referral facility for all breeds and types of horses of every age with every type of foot disorder. At the center, Dr. Morrison works with a staff of hoof-specialist veterinarians, farriers, and technicians. He also travels throughout the United States and Europe to consult and lecture, numbering trainer Aidan O'Brien among his clients. Dr. Morrison has already developed several horseshoe designs that are used all over the world and is exploring the use of umbilical stem cells in severe laminitis cases.
Joining Dr. Morrison on the subject of podiatry will be Shawn A. Morrell, DVM of Rood & Riddle's Saratoga facility. Dr. Morrell graduated from veterinary school at Virginia-Maryland Regional College in 2012, then attended the Kentucky Horseshoeing School from which he graduated in 2014. Dr. Morrell completed an internship at Rood & Riddle from 2012- 2013 and is currently a podiatry fellow under Dr. Scott Morrison.
Dr. Laura Javsicas, VMD, DACVIM is a specialist in equine internal medicine. A graduate of Cornell University who earned her veterinary degree at the University of Pennsylvania School of Veterinary Medicine program, Dr. Javsicas worked at Hagyard Equine Medical Center in Lexington, Kentucky before going on to study at the University of Florida College of Veterinary Medicine where she prepared for her specialty. Board-certified as a Diplomate of the American College of Veterinary Internal Medicine, Dr. Javsicas moved to New York to work at Upstate Equine Medical Center in Schuylerville, and now calls the Rhinebeck Equine Clinic home.
When Dr. Javsicas was at Upstate, Ahmed Zayat's Paynter had the good fortune to cross her path in the early stages of a life-threatening case of colitis that required abdominal surgery and was later complicated by laminitis. Under Dr. Javsicas' care, Paynter recovered sufficiently to be transferred to the University of Pennsylvania's New Bolton Center. When Paynter's all-but-miraculous recovery and triumphant return to the races was celebrated as the 2012 National Thoroughbred Racing Association Moment of the Year at the Eclipse Awards, Dr. Javsicas was asked by Ahmed Zayat to accept the award on behalf of "Team Paynter."
Last, but certainly not least, the panel will feature farrier Ray Galluscio. A familiar and popular figure in New York breeding and racing circles, Galluscio grew up in Columbia County and began working for trainer Mike Hernandez at Clermont Farm when he was 15.
Galluscio attended farrier school in New Jersey, after which he became an apprentice working mostly on show horses in Connecticut. Once he got his farrier's license, Galluscio worked at thoroughbred farms in the Hudson Valley and shod horses for his late brother Dominic's racing stable.
A member of the American Farriers Association, Galluscio has been involved with thoroughbreds of all ages for more than 25 years, and often worked with Frank Christian, who serviced several prominent farms in Lexington, when Frank would fly north to work at Kinderhill Farm.
NYTB is proud of this fine lineup and we expect the seminar to attract a full house.
*
Know the Facts and the Fix: Foal Diseases and Foot Management 
When: Saturday, December 9, 2017, 9 a.m. to 1 p.m.
Where: Fasig-Tipton Sales Pavilion, 415 East Avenue, Saratoga Springs
To attend you must RSVP to the NYTB office by December 4 at (518) 587-0777 or info@nytbreeders.org.
Click here for Seminar invitation postcard.