Friday, August 25th, 2017
By Bill Heller
Is there anything more intoxicating than having an unbeaten two-year-old? Nobody knows just how far he'll progress, but it sure is a great ride to be on. Just ask the connections of Gold Squire's two-year-old colt Aveenu Malcainu, who upped his unblemished record to two-for-two by taking the 6 ½ furlong $200,000 Funny Cide Stakes by 2 ½ lengths under Luis Saez on Showcase Day Friday at Saratoga. Sent off at 1-2 in the field of eight, he won in 1:17.69.
Actually, he nearly didn't make it into the starting gate. "Before the race, he hit his head, scratched his nose and was bleeding out of his eye," Aveenu Malcainu's trainer, Jeremiah Englehart said. "We looked at him and he was okay. He seemed like he was all right. He's a big boy."
He ran like a man.
Inalienable Rights, who was dispatched at 18-1 under Junior Alvarado, made up a ton of ground late to finish second, three-quarters of a length ahead of What a Catch, the 2-1 favorite ridden by John Velazquez. Analyze the Odds, a 33-1 shot ridden by Manny Franco, checked in fourth, 2 ¼ lengths behind What a Catch.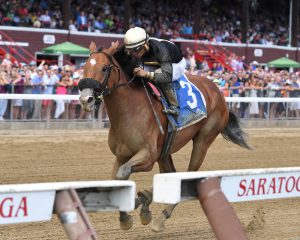 Taylor Brothers Properties, George Soufley and Brian Khan bred Aveenu Malcainu, a son of Into Mischief out of Island Time by Trippi who sold for $150,000 as a two-year-old in April.
Aveenu Malcainu is the name of a Jewish prayer said on Rosh Hashanah, the Jewish New Year.
Aveenu Malcainu made his debut at Saratoga July 28th. Sent off at 4-1 in the field of 10, Aveenu Malcainu rallied from eighth to win by three-quarters of a length.
He got out of the starting gate much better Friday, and Saez settled him in third as 7-2 Morning Breez and Irad Ortiz Jr. set the pace and What a Catch, who broke from the outside post in the field of eight, got away second.
Morning Breez, What a Catch and Aveenu Malcainu raced 1-2-3 with  Morning Breez leading What a Catch by a half-length to a length behind through a first quarter in :22.36 and a half-mile in :45.72. Aveenu Malcainu was a comfortable third, two lengths behind What a Catch.
Then What a Catch made his bid for the lead as Saez took Aveenu Malcainu three-wide for a clear shot at the two front-runners. What a Catch put away Morning Breez, but he was quickly confronted by Aveenu Malcainu. Aveenu Malcainu spurted past the favorite to win going away in an impressive performance.
"It was perfect," Saez said afterwards. "I put pressure on my horse and we took off."
Now two-for-two, Aveenu Malcainu has already earned $163,800. That's more than his purchase price. Here's the best part. His stakes debut was a huge improvement on his maiden victory and who knows what's next? Who knows how good he'll become? Aveenu Malcainu's connections are going to have a heck of a lot of fun finding out.
"The owners want to put him in the Champagne (a Grade 1 $500,000 stakes at Belmont Park Oct. 7th)," Englehart said. "Hopefully, he keeps progressing."