Thursday, July 13th, 2017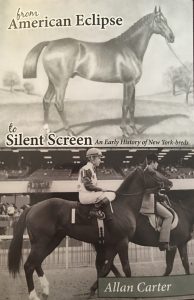 (National Museum of Racing and Hall of Fame Press release)
SARATOGA SPRINGS, N.Y. — Allan Carter, the National Museum of Racing and Hall of Fame's official historian, has released a new book titled "From American Eclipse to Silent Screen: An Early History of New York-breds" through Shires Press, the publishing division of Northshire Bookstore.
The book is available for purchase at the National Museum of Racing and Hall of Fame, Northshire's location on Broadway in Saratoga Springs and various other Saratoga Springs outlets, including Impressions, Lyrical Ballad and Five Points. Books may also be ordered directly through Carter. Retail cost of the book is $21.95 (members of the New York Thoroughbred Breeders, Inc. receive a 10 percent discount by showing their 2017 pin or membership card). To order directly from Carter, please send check for $27 ($25 for NYTB members) to: Allan Carter, 3 Pinewood Ave., Saratoga Springs, NY 12866.
Underwritten by the New York State Thoroughbred Breeding and Development Fund and backed by promotional assistance from the New York Thoroughbred Breeders, Inc. (NYTB), Carter's book examines the rich history of thoroughbred breeding in New York State. It features legendary breeders such as August Belmont, Pierre Lorillard, Francis Morris and Sanford Stud Farm, among others, and tells the stories of numerous great racehorses, including Hall of Fame members American Eclipse and Ruthless. For more information about the book, please visit: www.facebook.com/HistoryNYBreds
"It is hard to overstate what Allan Carter has accomplished in this book. He has thoroughly explored the world of New York State breeding before the advent of the New York State thoroughbred breeding program in 1973," said Albany Law School's Bennett Liebman in the book's introduction. "Despite the fact that thoroughbred racing in the United States originated in New York State in the 1660s, scant attention has been paid to the early history of thoroughbred breeding in the state. It is a field that has largely gone unexplored by historians and racing enthusiasts.
"Allan Carter has changed all this. His research into New York breeding is both exhaustive and groundbreaking. There is a traditional adage in racing that "a good horse can come from anywhere." Allan has demonstrated that a good horse can come from anywhere in New York State. Whether it's from Nassau County, Suffolk County, Staten Island, the Bronx, or Delaware County, Alan has shown where the good New York horses have come from.
"It's not just the quality of the research that is impressive. Allan has blended the history of New York breeding into the story of the overall fabric of American racing in a most compelling manner. It is not merely a reference or an educational read; it is an intriguing read."
Carter, who previously released "150 Years of Racing in Saratoga: Little Known Stories & Facts from America's Most Historic Racing City" with co-author Mike Kane, was a longtime reference librarian at the New York State Library. He also authored two editions of "New York State Constitution: Sources of Legislative Intent," arguably the most authoritative look at the full history of the New York State Constitution.
Carter will be signing copies of his book at the NYTB cocktail party in the upstairs Buyers Lounge and balcony on both nights of the Fasig-Tipton New York-Bred Preferred Yearling Sale on Aug. 12 and Aug. 13 and at the NYTB luncheon event in the Paddock Tent on New York Showcase Day at Saratoga Race Course on Aug. 25.
"Alan Carter's new book is an engrossing history of New York-breds before there was any such thing as a 'New York-bred,'" said Jeff Cannizzo, executive director of the New York Thoroughbred Breeders, Inc. "It is absolutely a must-read for everyone interested in the evolution of thoroughbred breeding in the U.S."