Thursday, June 15th, 2017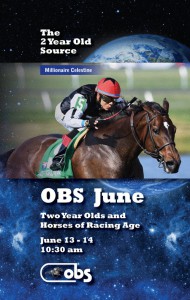 By Sarah Mace
New York-breds made a solid showing at this week's two-day Ocala Breeders' Sales Company's June sale of 2-year-olds in training and horses of racing age. The New York topper was a bay City Zip filly purchased by Bradley Thoroughbreds LLC, Agent for $150,000. Conducted on Tuesday and Wednesday, the OBS sale was the final major juvenile auction on the 2017 calendar.
The $150,000 City Zip filly was bred by West End Thoroughbreds and foaled at Rojan Farms in Schuylerville on March 24, 2015. Offered by Hoppel's Horse & Cattle Co., Inc., Agent, and catalogued as Hip 90, the filly turned in a furlong work in :10 1/5 on the first day of the under tack show. Tuesday was her very first appointment with the auctioneer.
She is the first foal out of Karakorum Elektra, a New York-bred stakes winner by New York sire Freud. A winner of 13 races from 46 starts, topped by a victory in the 2009 Memories of Silver Stakes for trainer Linda Rice at six furlongs on turf, Karakorum Elektra earned $485,061. She delivered a full brother to the sale filly in 2016 and on March 22, 2017 foaled a colt by Flatter.
The top New York-bred colt at the OBS sale was Hip 465, a dark bay/brown individual by Quality Road purchased by Kirkwood, Agent for David Berman, for $130,000. Like the filly topper, this juvenile came under the hammer for the first time this week. Randy Miles, Agent, was the consignor.
The sale colt was bred by Lansdowne Thoroughbreds, LLC, foaled at Hidden Lake Farm in Otisville on May 2, 2015 and posted a co-bullet work in :10 seconds flat on the third day of the under tack show. He is the only reported foal from Villanella, a multiple winner by War Chant purchased by Lansdowne Thoroughbreds for $50,000 at the 2015 Keeneland November sale.
After 59 New York-breds passed through the auction ring over the sale's two sessions, 49 found new homes (including five private sales) for a strong buyback percentage of 17.0%. The figure outdid the 18.8% RNA rate for the sale as a whole, which in its own terms showed considerable improvement from 24.3% a year ago.
The average price for this cohort of New York-breds was $32,082, while the median came in at $18,000. For the sale overall, the average was $35,889, up 23.9% from $28,968 in 2016, and the median price was $19,000, up 40.7% compared with $13,500 a year ago.