Monday, April 2nd, 2012 by Sarah Mace
Giant Ryan, by New York Sire Freud, stole the show at NYTB's annual Awards Banquet on Monday evening, winning the honors for 2011 New York-Bred Horse of the Year, Champion Older Male and Champion Male Sprinter, while the connections of Lovely Lil walked off with dual honors for Champion Older Female and Champion Female Sprinter. Chester and Mary Broman were jointly named top New York Breeder.
All the 2011 New York-bred Divisional Champions and other honorees were announced at NYTB's Annual Awards Banquet on Monday evening at the Saratoga National Golf Club in Saratoga Springs. Divisional winners were voted by New York turf writers, chart callers, racing analysts and other eligible voters. Co-hosts of this year's Awards Banquet were Jason Blewitt, racing analyst for the New York Racing Association, and former leading New York jockey Richard Migliore, who now serves as a NYRA broadcast analyst and racing office associate.
The complete list of honorees is given below in the order in which the awards were presented. Recaps of 2011 achievements of all winners follow.
HONOREES:
Champion Two-Year-Old Filly: Weemissfrankie
Champion Two-Year-Old Male: Swag Daddy
Champion Three-Year-Old Filly: Ava K.
Champion Three-Year-Old Male: Street Game
Champion Turf Female: Hessonite
Champion Turf Male: Compliance Officer
Champion Female Sprinter: Lovely Lil
Champion Male Sprinter: Giant Ryan
Champion Older Female: Lovely Lil
Champion Older Male: Giant Ryan
Champion Steeplechase Horse: Here Comes Art
Horse of the Year: Giant Ryan
New York Broodmare of the Year: Salty Romance
New York-Bred Trainer of the Year: Chris Englehart
New York-Bred Jockey of the Year: Ramon Dominguez
New York Breeders of the Year: Chester and Mary Broman
ACHIEVEMENTS and PROFILES:
Champion Two-Year-Old Filly: Weemissfrankie
One of the top 2-year-old fillies in the country last year and absolutely dominant on the West Coast, Weemissfrankie waged a dazzling juvenile campaign. She chalked up two Grade 1 victories, finished third in the Grade 1 Breeders' Cup Juvenile Fillies and topped all New York-breds in earnings with a bankroll of $559,920.
Named for late Hollywood actor and television director Frank Alesia who died early in 2011, Weemissfrankie is owned by a many-headed partnership consisting of people who all "miss Frankie": Frank Alesia's wife Sharon, Michael Mellen's Bran Jam Stables, Joe Ciaglia's Ciaglia Racing LLC, MTV reality TV star and skateboarder Rob Dyrdek, and former jockey's agent Nick Cosato. The filly's trainer is Peter Eurton, also a minority owner.
Weemissfrankie impressed from the first, putting in a late rally to win her 5-furlong Del Mar debut on July 20 by one-half length. The late run would become her hallmark style.
Testing the deepest waters in her second start, Weemissfrankie won the Grade 1 Del Mar Debutante Stakes by 1 1/4 lengths, rating patiently in the early stages and delivering a decisive kick down the lane to give Eurton his first Grade 1 victory as a trainer. In her next start, the chestnut rallied late to take the Grade 1 Oak Leaf Stakes at Santa Anita, successfully handling the transition to a conventional dirt track after Polytrack success, and earning a spot in the starting gate for the $2 million Grey Goose Breeders' Cup Juvenile Fillies.
Drawn in post 11 of 14 runners for the Breeders' Cup race, Weemissfrankie suffered wide trip, but kept gamely in the fight right to the wire, securing a third-place finish behind eventual Eclipse Champion My Miss Aurelia.
In her final start of the year Weemissfrankie went to her nose at the start of the Grade 1 Hollywood Starlet and still finished a close-up fourth. It was discovered after the race that she suffered a non-displaced condylar fracture. After a successful surgery, the filly is recovering with a good prognosis.
Bred by Hidden Point Farm, Inc. and foaled at Empire Stud (now Vinery NY), Weemissfrankie issues from the first crop of Grade 1-winning sire Sunriver, a full brother to champion Ashado. Sunriver stood two seasons at Empire Stud prior to his premature death in August 2009.
Weemissfrankie sold for $175,000 at the OBS April two-year-old sale, purchased by Eurton on behalf of Ciaglia from Eddie Woods. She is one of two registered New York-breds out of the unraced Meadowlake mare Starinthemeadow – a Hidden Point Farm homebred.
Champion Two-Year-Old Male: Swag Daddy
Over the course of his six-race juvenile campaign, Eric Fein's Swag Daddy (Scat Daddy) developed into a patient runner with a devastating late kick. The dark bay colt began his career with two solid learning efforts for trainer Derek Ryan at Saratoga. Sent off as favorite in his 5 1/2-furlong debut on July 24, he raced near the pace early before tiring. Next out he raced competitively while stretching out to 1 1/16 miles on the turf.
When the action returned to Belmont, Swag Daddy moved the barn of Rick Dutrow, Jr. and broke his maiden on September 28 going seven furlongs after a determined drive from a stalking position.
Two starts later Swag Daddy delivered his most impressive performance of the year in the 1 mile 70-yard Damon Runyon on December 4. Last for the first half-mile, the dark bay colt made up ground and then unleashed an explosive turn of foot to collar Pretension at the wire. He wrapped up his campaign with a front-running 4 1/2-length victory in the Restrainor Stakes on New Year's Eve. Swag Daddy won three races from six starts in 2011 and earned $111,490.
Bred by Sugar Maple Farm in Poughquag (now Vinery New York at Sugar Maple), Swag Daddy has seven winning siblings, including New York-bred Grade 3 Iroquois Stakes runner-up What a Tale, by Tale of the Cat ($128,080), and New York-bred stakes-placed juvenile filly Anjorie, by A. P Jet ($102,035). His dam Mrs. Filio is a winning Kentucky-bred daughter of Eastern Echo acquired by Sugar Maple at the 1997 Keeneland November Breeding Stock sale for $65,000.
Swag Daddy changed hands at public auction twice, selling first to Nancy Ross as a Fasig-Tipton Saratoga New York Preferred Yearling in 2010 for $72,000, and then going to Eric Fein the following March for $170,000 at the OBS Select Two-Year-Old sale.
Champion Three-Year-Old Filly: Ava K.
Unraced at two, Ava K. did little wrong in the eight starts of her sophomore campaign. A daughter of Dixie Union jointly bred and owned by H. Lewis Rapaport and Sugar Maple Farm, Ava K. reeled off three straight wins at Aqueduct out of the box for trainer Michael Hushion. The filly went on to win three stakes races in 2011, stay a perfect five-for-five in state-bred company and earn $201,467.
Ava K. debuted with a 10 1/4-length romp in a ten-horse field on January 9. A month later she stalked and then passed horses on her way to a 2 1/2-length victory in a state-bred allowance. Stretching out from 6 furlongs to 1 mile 70 yards in March, Ava K. took the Puppy Stakes for 3-year-old state-bred fillies in her stakes debut.
Ascending the class ladder yet again in April, and still undefeated, Ava K. finished a game third in the Grade 3 Comely Stakes run at one mile on the Wood Memorial undercard. When the action turned to Belmont, Ava K. followed another third-place finish in the open one-mile Wanda Stakes in May with a pair of state-bred stakes victories in June, where she showcased her affinity for longer sprints winning the Wandering Cloud (6 1/2 furlongs) and Bouwerie (7 furlongs). Ava K. closed out the year with a rough a trip in the Grade 1 Test S. at Saratoga.
Ava K. is the first black type winner, and fourth winner overall, of five foals to start out of Sugar Maple Farm's stakes-winning New York-bred mare Bedside Manner by Dr. Blum ($262,223). Offered for sale only once at public auction, Ava K. failed to meet her reserve after being bid up to $190,000 at the Fasig-Tipton Saratoga select sale in 2009.
Champion Three-Year-Old Male: Street Game
After a lone unplaced start at two going six furlong on dirt at Saratoga followed by six months on the bench, Flying Zee Stable's Street Game progressed steadily when he turned to turf competition at three, ultimately becoming a Grade 3 winner and Grade 2 contender.
Trained by Phil Serpe, Street Game began 2011 at Gulfstream Park with a pair of solid on-the-board efforts against open maidens in March and April. The real fireworks began after he returned to New York. In a span of two weeks in May, Street Game broke his maiden by nearly 11 lengths and then left allowance foes two lengths in his wake in a pair of 1 1/16-mile turf events for state-breds.
Street Game's next stop was Belmont's Grade 3 Hill Prince S. on June 18. Regular rider Ryan Curatolo – also seeking his first stakes victory – got the chestnut colt out of the gate smartly and they never looked back, turning a 1 1/2-length lead at the quarter pole into a 7 1/4-length romp. Although Street Game went to the post as favorite for his final two starts of the year, the Grade 2 Virginia Derby and Grade 2 National Museum of Racing Hall of Fame Stakes, he had to settle for off-the-board finishes. With a record of 3-3-1 from 7 starts in 2011, Street Game earned $140,712.
Bred by Nustar Breeding, LLC and foaled at the late Carl Lizza's Highcliff Farm in Delanson, Street Game is the sixth foal out of Thunder Achiever, a Grade 2-winning Thunder Puddles mare also bred by Carl Lizza/Flying Zee ($366,112).
Champion Turf Female: Hessonite
After racing on dirt for three of four starts at two (and breaking her maiden in an off-the-turf event), William J. Punk, Jr. and Philip DiLeo's Hessonite truly blossomed when she became a full-time turf runner at three. The daughter of Freud won four of six starts last year, including three stakes races, placed in a Grade 3 event and earned $239,600.
After trouncing a field of older New York-bred allowance rivals on turf at Aqueduct to begin her sophomore campaign, Hessonite won an open-length victory in her stakes debut, the Cupecoy's Joy Division of the Stallion Stakes Series on June 5 at Belmont. Trying graded company sixteen days later, she closed impressively into third in the Grade 3 Boiling Springs Stakes at Monmouth Park. Hessonite made one appearance at the Spa, confidently taking her second Stallion Series race of the year, a combined male and female three-year-old division run on turf.
After taking September off, in October Hessonite charged home to finish second behind favorite Elusive Pearl in the open Pebbles Stakes on Belmont's Columbus Day card. Wheeling back just 12 days later, she put the crowning touch on her sophomore campaign by running down elders, including standout state-bred turf rival Gitchee Goomie, to win Justenuffhumor Ticonderoga on Showcase Day.
Bred by Berkshire Stud and Waterville Lake Stables Limited, LLC, and foaled at Berkshire Stud, Hessonite was purchased by William Punk, Jr. as a 2009 Keeneland September Yearling for $27,000. She is one of eight winners out of Lakab, a winning daughter of Manila with three siblings who won at the Grade/Group 2 and 3 levels.
Hessonite's sire Freud (Sequel Stallions New York) was New York's leading stallion in 2008 and 2009, second in the state rankings in 2010 and 2011 and has been the number one turf sire in the state every year since 2007.
Champion Turf Male: Compliance Officer
New York turf star Compliance Officer was one of the truly great "rags to riches" stories of 2011, as he went from $25,000 claimer to contender in the Breeders' Cup mile.
Compliance Officer was claimed by Bruce Brown on behalf of LaMarca Stable from Klaravich Stables and William H. Lawrence (Terri Pompay, trainer) for $25,000 out of his May 14 seasonal debut. A fourth-place finisher that day, the five-year-old dark bay gelded son of Officer was destined to visit the winner's circle after each of his next five starts.
Compliance Officer's first two victories after the claim came while racing against state-breds for a $50,000 tag in turf sprints in June and July at Belmont, but his next appointment with the starter was at Saratoga in August for his stakes debut. Stretching back out to a route of ground in the West Point H., Compliance Officer kicked away in the stretch under Alex Solis to win by nearly two lengths. Brown, who said that the West Point was the "biggest race" he'd ever won, commented, "A lot of times you get a fresh horse like that, you can have some fun. I didn't expect to have this much fun!" At this point the fun had only just begun.
Compliance Officer followed up his West Point score with commanding victories in Belmont's Ashley T. Cole Stakes in September (by 3 1/2 lengths) and in the Bluegrass Cat Mohawk on Showcase Day (by 5 lengths).
After winning five straight, Compliance Officer had convinced his connections that he had earned the right to take a shot in the Grade $2 million TVG Breeders' Cup Mile, where he shared the spotlight with the likes of Goldikova and Gio Ponti. Hampered in the running of the race by a wide draw (post 12 of 13), he was unable to tuck in behind horses, where he is most comfortable, and finished off the board.
While most other Breeders' Cup horses were on embarking on holiday, Compliance Officer had one more challenge ahead before a break: the $100,000 Claiming Crown Emerald Stakes at Fair Grounds on December 3 (a 1 1⁄16-mile turf race for horses that started for a $25,000 claiming price or less since the beginning of 2010). The gelding rallied decisively in the stretch to capture his sixth victory of the year. After the Claiming Crown, owner Thomas La Marca said, "It's been like a fantasyland."
Compliance Officer earned $305,050 from his six 2011 victories, ending the year in third place in the New York-bred earnings rankings behind Grade 1 winners Weemissfrankie and Giant Ryan. Bred by Ken and Sarah Ramsey and foaled at Highcliff Farm in Delanson, Compliance Officer is one of two winners from two foals to start – and only New York bred – out of the winning Dynaformer mare Purple Hills, a $40,000 purchase for the Ramseys at the 2006 Keeneland January sale.
Champion Older Female, Champion Female Sprinter: Lovely Lil
Lovely Lil, owned and bred by Barry K. Schwartz and trained by Michael Hushion, became a  Grade 2 winner in 2011, taking a total of three races and never finishing off the board in five starts at distances from six furlongs to one mile.
Following nine months on the bench rehabbing her shoulder and ankle, Lovely Lil began her 4-year-old campaign at Saratoga, where she wired a second level state-bred allowance on July 27, vying early with one rival, and gamely holding off stakes-winner Yawkey Way in a duel that lasted the length of the stretch. A month later, the bay daughter of Tiznow picked up her first black type, taking the Union Avenue S. for New York-bred fillies and mares at Saratoga by 1 3/4 lengths from off the pace.
Lovely Lil had tested the waters of graded competition in 2010, finishing in a dead heat for fourth in the Grade 1 Test and seventh in the Grade 2 Gallant Bloom H. Trying the Gallant Bloom again at Belmont in September, she ran a flattering third behind Grade 2 winner Pomeroys Pistol and Grade 3 winner Tamarind Hall.
Toting 124 pounds in the seven-furlong Friendly Island Iroquois on Showcase day, Lovely Lil had to settle for second behind Risky Rachel, but she roared back a month later on Black Friday, to deliver a command performance in the Grade 2, one-mile Go For Wand H., contesting every step of the race on her way to a 1 1/4-length victory over a "good" track for a career-high Beyer Speed Figure of 90. Lovely Lil finished 2011 with a record of 3-1-1 from five starts and $201,400 in earnings.
Lovely Lil's dam is Florida-bred How About Now, a Grade 2-winning sprinter by Pentelicus also campaigned by Schwartz and trained by Hushion. Lovely Lil is one of six winning siblings from six to start, including multiple stakes-placed War Paint, by Devil's Bag ($265,881), and multiple stakes-winner Sweet Sweet, by Honour and Glory ($191,341).
Horse of the Year, Champion Older Male, Champion Male Sprinter: Giant Ryan
After starting only once as a 4-year-old, at five Shivananda Parbhoo's Giant Ryan, by New York sire Freud, became a star sprinter. Giant Ryan won six straight races at three different racetracks in 2011, including Grade 1 and Grade 2 "Win and You're In" qualifying races for the $1.5 million Sentient Jet Breeders' Cup Sprint, and ended the year as the second-leading New York-bred earner ($559,490).
Trained by the owner's father Bisnath Parboo, a 72-year-old native of Trinidad (the original "h" accidentally omitted during a visa renewal), and named for his 6-year-old son Ryan, Giant Ryan began the year with a pair of off-the-board finishes at Gulfstream Park (one of them a turf try), but found his groove during a spring sojourn in New York.
After winning a second-level state-bred allowance at Aqueduct in March in an eye-catching 1.09.92, Giant Ryan triumphed in his stakes debut in April, the Hamlet overnight stakes for New York-breds at Aqueduct, where he completed the six furlongs 1:09.06 and posted the first of three straight triple-digit Beyers. In May Giant Ryan won an open $75,000 third-level open allowance race at Belmont in the slop by open lengths.
When Giant Ryan returned to Florida, he won his next two starts at Calder Race Course, the Ponche H. in June and Grade 2 Smile Sprint H. in July – Calder's only 2011 Breeders' Cup qualifying race. Giant Ryan then returned to New York to cap his streak, digging in grittily to win the Grade 1 Vosburgh S. at Belmont by one-half-length in the mud on October 1.
In the Breeders' Cup Sprint Giant Ryan contested the early pace before backing up in the final furlong to finish eighth. Parboo found out after the race that Giant Ryan had a respiratory infection. "Imagine trying to run a race like that, against the world's best sprinters, with an infection," said Parboo. "The vet in Kentucky told us that we were lucky the horse ran as well as he did for five-eighths that day. Most horses wouldn't have run at all."
Bred by Becky Thomas and Lewis Lakin and foaled at Sequel Stallions New York, Giant Ryan is out of the winning Dayjur mare Kheyrah. He sold as a weanling to JMJ Racing for $14,000 at the OBS 2006 mixed sale, failed to meet his reserve when bid up to $25,000 in the 2008 OBS open two-year-old sale, and was picked up later that year Shivananda Racing from the consignment of M & H Training and Sales for $27,000 at the OBS two-year-old and horses of racing age sale.
Giant Ryan's sire Freud, New York's leading stallion in 2008 and 2009 and second in the rankings in 2010 and 2011, has led the state in the number of stakes winners every year since 2008. He stands for Sequel Stallions New York.
Champion Steeplechase Horse:
Here Comes Art

by Don Clippinger
Here Comes Art lives the good life. He spends the winter in light exercise on the North Carolina farm of Carrington Racing Stable owners Bill and Carrington Price. In spring and fall, he is based in Camden, S.C., with trainer Arch Kingsley Jr.
In 2011, he toiled at Saratoga Race Course and recorded one steeplechase victory and a third-place finish in a stakes race for novices, which are horses in their first years of competition over fences. He concluded the year with a strong effort in a Grade 1 race in Camden to lock up the 2011 title as champion New York-bred steeplechase horse.
Like most steeplechase horses, Here Comes Art started on the flat. Bred by William R. Ammann and foaled at Summit View Farm in Greenwich, the Royal Anthem gelding was claimed for $28,000 at Laurel Park in October 2007 by Price, a Charlotte business owner and steeplechase enthusiast. A variety of ailments kept Here Comes Art from the races for 23 months, and he returned with a good second on the flat against fellow New York-breds at Saratoga in September 2009.
He scored his first jump victory at Camden that fall and was competing in allowance races the following spring when he bowed a tendon in the Queen's Cup, at the Prices' home race meet near Charlotte. (They are the co-chairs.)
After another year off, Here Comes Art came back strongly in 2011, beginning with a good third in the Jonathan Kiser Novice Stakes at Saratoga in late July. In the Michael G. Walsh Novice Stakes, front-running Here Comes Art was overeager and ran out of steam before the last fence.
Kingsley, a former champion steeplechase jockey, then called his own number for the $53,000 Ninepins, an optional allowance. Here Comes Art jumped brilliantly on the lead for Kingsley, repelled a challenge at the last fence, and won by 3 3/4 lengths.
Here Comes Art stepped up in class for the season-ending $100,000 Marion duPont Scott Colonial Cup, a Grade 1 steeplechase race at Camden on November 19. Here Comes Art again jumped strongly, led at the last fence, and finished a respectable fourth, beaten only 3 1/4 lengths. He is currently on the Prices' farm being legged up for his 10-year-old season.
Broodmare of the Year: Salty Romance
Flying Zee Stable's Salty Romance ticked all the boxes in 2011 as a first-class broodmare. The (then) 10-year old mare was herself a sale topper, her 2011 yearling commanded the second highest price in another sale, and her two-year-old Agave Kiss went undefeated in two starts, showing forth the promise she is fulfilling this year as a still-undefeated Grade 3 winner.
A Kentucky-bred daughter of Salt Lake, Salty Romance was purchased by the late Carl Lizza, principal of Flying Zee Stable, for $320,000 at the 2003 OBS Spring Two-Year-Old sale. As a Flying Zee color bearer, Salty Romance won the Delta Princess S. as a juvenile and ran second in the Grade 3 Santa Ysabel S. at three, earning $229,200 before embarking on her career as a broodmare.
Two of Salty Romance's three foals to start are stakes horses. Luxury Appeal, bred by Nustar Breeding LLC and campaigned by Flying Zee, is a multiple stakes-placed son of Johannesburg ($70,960). Then came Agave Kiss.
Agave Kiss (Lion Heart), also bred by Nustar, debuted a 6 1/4-length winner on the Showcase Day undercard, running six furlongs in 1:09.79 (just .21 seconds slower than the winning time of the Posse Hudson later on the card) to earn Beyer Speed Figure of 90. Agave Kiss won both juvenile starts by a combined 16 3/4 lengths, was accorded "TDN Rising Star" status, and has since gone on remain undefeated in four starts with two stakes victories, including the Grade 3 Cicada.
Both Salty Romance and her 2011 yearling went through the sales ring last year in separate phases of the dispersal of the Flying Zee Stable. The yearling, a March Filly by Lemon Drop Kid named One Time Only, topped Phase I of the dispersal, which followed the regular offerings at Fasig-Tipton's Kentucky fall Yearling sale. Purchased by Donato Lanni on behalf of Glen Hill Farm for $375,000, the filly sold just $5,000 shy of the top lot in the regular portion of the sale.
In Phase II of the dispersal, which followed the Fasig-Tipton Midlantic December Mixed sale, Salty Romance, in foal to New York sire Cosmonaut, topped both the dispersal and the main body of the sale, going to Carlos Martin, agent for Blue Devil Racing Stable, for $260,000.
Trainer of the Year by New York-bred earnings: Chris Englehart
Perennially the leading trainer at Finger Lakes Racetrack, Chris Englehart has been successfully expanding his presence at the NYRA race tracks over the past few years, which no doubt was a factor when he wrapped up the title for leading trainer of New York-breds in 2011.
With 513 Empire-bred starters, Englehart compiled a record of 138-84-80 and earned $1,955,787. This translates into numbers any trainer would envy: 27 percent state-bred winners and 59 percent on-the-board finishers. Winner of his first training titles at Finger Lakes in 1985 and 1987, Englehart won his ninth straight title in Farmington in 2011.
A Canandaigua native who has been training horses since 1973, Englehart started 2011 with a bang. Beginning on December 30, 2010, when Who's the Cowboy won the first race at Aqueduct, he saddled seven straight winners in a four-day period, coming within one of what is believed to be the modern-day record for consecutive wins for a trainer in New York. "I won nine races in a row at Finger Lakes in 1989, but I think this is more significant," said Englehart. "Winning races at the NYRA tracks is a lot tougher to do."
On August 19, 2011 Englehart passed his most significant career milestone to date, earning victory number 3,000 when New York-bred Twinkle In His Eye scored a one length win in the fifth race at Finger Lakes. (Englehart earned victories number 3,001 and 3,002 later on the card.) Englehart also saddled a stakes winner downstate last year, when Smokin Hero took the Noble Nashua overnight stakes for older New York-breds at Belmont in June.
Jockey of the Year by New York-bred earnings: Ramon Dominguez
Since 2002, when NYTB first began honoring the top-earning jockey with New York-bred mounts, it has had the privilege of honoring other Eclipse Award winning riders, but for the first time in 2010 – and now again in 2011 – Ramon Dominguez wins the New York award as a reigning Eclipse honoree. Dominguez is also the first rider to win the New York title three times. Richard Migliore and Eibar Coa have each won the award twice in back-to-back years, Migliore in 2004 and 2005 and Coa in 2006 and 2007.
In 2011 Dominguez compiled a record of 123-109-77 from 507 starts aboard Empire-Breds –winning at a 24 percent clip and finishing in the money 61 percent of the time. His earnings from New York-breds mounts in 2011 totaled $4,434,372.
In addition to piloting two-time New York-bred Horse of the Year Haynesfield to his second victory in the McMahon Adena Empire Classic Stakes on Showcase Day, Dominguez was instrumental in many of the 2011 Championship honors, winning three stakes races aboard this year's Champion Three-Year-Old Filly Ava K. and three aboard Champion Turf Female Hessonite. In all Dominguez won 15 stakes races with ten different New York-bred mounts for eight different trainers.
Despite repeat Eclipse Award glory, the 35-year-old native of Venezuela remains a year-round mainstay for owners and trainers of New York-breds and, at every level of competition, is known for consistently delivering a Grade 1 ride.
Many of Dominguez' milestones in recent years have come aboard New York-breds and 2011 was no exception, as he became only second jockey in history to win six races on a single Belmont card after taking the Cupecoy's Joy Division of the NYSS aboard Hessonite. Three of Dominguez' five wins earlier on the day had also come aboard New York-breds – Saginaw, Little Larky, and – in the other division of the NYSS – Darrin's Dilemma. Dominguez said, with characteristic humility, "It really wasn't me. It was the horses."
Breeders of the Year: Chester and Mary Broman
Chester and Mary Broman are no strangers to honors as both breeders and owners. The Bromans won the TOBA award for New York Breeder of the Year in both 2004 and 2005, and were NYTB's New York Breeders of the Year in 2004, after campaigning Grade 1 Florida Derby winner and Kentucky sire Friends Lake. In 2009 the Bromans led the owners' standings at the 2009 Belmont Fall meet, with every single one of their nine winners bred and raised at their own Chestertown Farm – a 300-acre property in Chestertown which they purchased in 1995.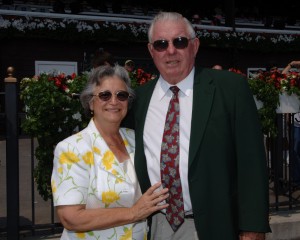 Seventy horses bred by the Bromans made 446 starts last year, compiled an aggregate record of 52-61-61 and earned $1,521,017. The three 2011 Broman-bred stakes winners were spread out among the three NYRA racing venues. Second generation homebred Mineralogist won the Saratoga Dew at the Spa and Soft Morning at Aqueduct, Friend Or Foe (Salt Lake) took the open Easy Goer at Belmont and Bigger Is Bettor captured the Albany, the third leg of the Big Apple Triple, at Saratoga. All three of the Bromans' stakes winners were divisional championship nominees.
The Bromans live in West Babylon, where Chester is the owner, president and CEO of Clifford Broman & Son, Inc., a general contracting corporation. He has also been a Trustee of the New York Racing Association since 1998, and has served multiple terms on the NYTB Board of Directors.