Tuesday, October 17th, 2017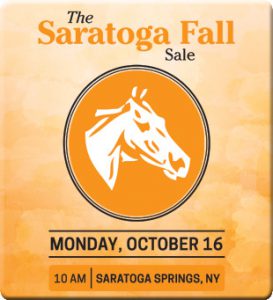 By Sarah Mace
The Fasig-Tipton Saratoga fall sale saw records drop when it hit a new high in average price, tied its best median and topped out with the highest-priced horse in the six-year history of the sale, a $170,000 weanling colt by Into Mischief
The single-session auction, which took place Monday beginning at 10:00 a.m. at the Humphrey S. Finney Pavilion in Saratoga Springs, kicked off with broodmares and broodmare prospects (Hips 1-90). The heart of the catalogue was comprised of weanlings (Hips 91-280) and the session  concluded with a handful of yearlings (Hips 281-298).
When all was said and done, sales totaled $3,265,000, up 17% from last year ($2,780,600) and just off sale's most successful year, 2013, when the auction included horses of racing age and grossed $3,363,600.
The average price of $22,674 was up 34% from last year's average of $16,955 and topped the previous high average of $18,791, which was also set in 2013.
The $12,000 sale median matched the figure for the sale's first year, and was up 41% over last year's $8,500 median. Of the 236 horses offered, 144 sold for a 39% buyback percentage, comparable to last year's 37%. Five individuals, in all, three weanlings and two broodmares brought six figures.
The sale topper was Hip 200, a bay weanling colt by Into Mischief purchased by Mahoney Eden Manor & Classic Bloodstock for $170,000.
The colt was bred by Kingsport Farm, LLC & Hidden Lake Farm LLC, foaled on April 9, 2017 and consigned by RFHF Bloodstock LLC, Agent for Hidden Lake Farm LLC /Kingsport Farm LLC. He is out of Kentucky-bred winner Darling Mambo, by Broad Brush, and a half-brother to Darling Sky, a multiple stakes-placed runner by Sky Mesa who set a course record for 1 mile and 70 yards at Parx.
Kingsport Farm acquired Darling Mambo in foal for $75,000 at the 2016 Keeneland November sale. The mare is out of a graded stakes performer and is a half-sister to a stakes winner in Japan. The sale colt's third dam is graded winner and stakes producer Reluctant Guest. Darling Mambo was bred this year to Bellamy Road.
The top weanling filly (Hip 108), a daugther of Tiznow, was bred and offered by the same connections as the sale topper.
Triple A Thoroughbreds signed a ticket for $150,000 to acquire this March 6 filly, who is the second foal out of Raesunbridledfaith, a stakes performer by After Market. Raesunbridledfaith is out of graded stakes winner Unbridled Hope and is a half-sister to the dam of graded winner Sugar Shock. She was a $60,000 in-foal purchase by Kingsport at last year's Keeneland November sale and was, like the dam of Hip 200, bred to Bellamy Road in 2017.
Click here for full sale results.