Friday, October 31st, 2014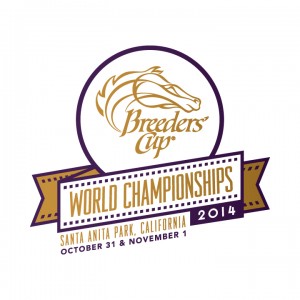 By Sarah Mace
A record number of Breeders' Cup-bound New York-breds made their way to Santa Anita this week in advance of the 2014 World Championships on October 31 and November 1. Post positions are drawn and most of the competitors have had a chance at least to stretch their legs over the Santa Anita oval.
Here's a rundown of post positions, jockeys and morning line odds of the New York-bred competitors, as well as what the horses have been up to this week and what their connections have had to say.
Offering Plan, Startup Nation, International star (Friday, October 31, Race 6. $1 million Breeders' Cup Juvenile Turf)
Three New York-breds will compete in the one-mile Breeders' Cup Juvenile Turf. While many in the field are going a mile for the first time, all three New York-breds are turning back in distance for the race.
Offering Plan (20-1 ML), the first of a pair trained by Chad Brown, drew post 8 and will be ridden for the first time by Irad Ortiz, Jr. After the scratch of Aktabantay, stablemate Startup Nation (12-1 ML) will break from post 9 (as #10) under regular rider Joel Rosario.
Despite a delayed flight, the Brown pair shipped well from New York on Monday and went out for some light exercise Tuesday. On Wednesday morning they galloped 1 1/2 miles.
Brown discussed both on Thursday, "The two colts seemed to have shipped in well coming off third- (Offering Plan) and fourth-place (Startup Nation) finishes in the Pilgrim. For Offering Plan, it was a real nice step forward for him, off his maiden win beating New York-breds. He stepped up in open company and really ran credible. Both of his races in his career have been good and I think he deserves a shot in the races. He's had two breezes since the Pilgrim and they were A-pluses for me. His energy level is terrific.
"Startup Nation seems to be training well. With him, I was very disappointed in the Pilgrim. He was a heavy favorite off his race in the With Anticipation at Saratoga where he showed that huge burst of foot." Brown said jockey Joel Rosario told him that the colt never seemed comfortable on the inside.
"He came out of the race in good order and since then he's been training well. He's another one who would appreciate more pace up front, to get a little further back and, of course, in the clear this time. I'm OK to lose ground with him and he drew toward outside anyway. I don't want to see him down on the fence this race. I'm willing to give up ground and see if he prefers to run outside of horses."
Five of seven (and the last three runnings) of this race have been won by horses trained in Europe, of whom there are five in the main body of the race, but according to some analysts, no giant-killers. The talented Startup Nation, who had an excuse in the Pilgrim, has every right to have a say in the outcome of this race.
Finally, International Star, who won Grade 3 Grey Stakes at Woodbine on October 5 and has never finished out of the exacta in any of his four races, drew post 11 (#12) of 14 and will have the services of John Velazquez, who has won 12 Breeders' Cup races (15-1 ML). Trainer Mike Maker said, "I was really confident in him until the draw. But, he's really coming around nicely and doing well."
Wonder Gal (Saturday, November 1, Race 4, $2 million 14 Hands Winery Breeders' Cup Juvenile Fillies)
Wonder Gal, who ran second to By the Moon in the sloppy Frizette last out on October 4, drew post 10 for the Juvenile Fillies and will be ridden for the first time by Mike Smith, owner of the most Breeders' Cup victories by a jockey with 20 (12-1 ML).
Trainer Leah Gyarmati said of the post position, "Wonder Gal's draw is fine. Wonder Gal won't have to stand in the gate too long. Her post is fine because with her running style (off the pace) it won't matter too much. I'm sure Mike (Smith) will find a spot to get over and save a little ground."
Wonder Gal breezed on Monday on the main track at Santa Anita, going four furlongs in 47.80 (14/54) and jogged on Tuesday.
Gyarmati reported on Tuesday: "She's much more relaxed today [after her work]. She jogged the wrong way this morning from the quarter-pole gap, walked to the paddock and took a long walk around the backside. Normally, I just walk her after a breeze but this took the edge off of her."
A big strong filly, Wonder Gal seems drawn ideally to stay out of the kind of traffic trouble she encountered in the Adirondack, and should love the extra distance (1 1/16 miles after the one mile Frizette) and a return to a fast track. She is absolutely a top contender in this event.
Dayatthespa (Saturday, November 1, Race 5, $2 million Breeders' Cup Filly and Mare Turf)
Two-time Grade 1 winner Dayatthespa, who projects to be on or near the lead in the 1 1/4-mile Filly and Mare Turf, drew post four for her first attempt beyond nine furlongs. Javier Castellano, who rode her to eight wins, including her Grade 1 victory in the Queen Elizabeth II Challenge Cup in her sophomore year has the call (8-1 ML).
The 5-year-old daughter of City Zip shipped from New York on Monday and had a light morning of exercise on Tuesday morning at Santa Anita Park. On Wednesday morning she galloped about 1 1/2 miles.
Trainer Chad Brown believes a victory in the Filly and Mare Turf could make Dayatthespa a contender for the division title. "That would be her second Grade 1 and it depends on what other horses do in the race," he said. "She's very dangerous. She's got speed and she can carry it. She's in career form right now."
Although she has never gone the 1 1/4-mile distance of the Filly and Mare Turf, the City Zip mare has the pedigree to do so on her dam's side, and it is hard to discount the confidence of her trainer, who is very successful when he precisely points a horse to a big race in this manner. The mare will be making just her fourth carefully-chosen start of the year on Saturday,
"She's a very consistent horse," said Brown. "For a trainer to have a horse as dependable as her, when you need a win she steps up and gives it to you."
On Thursday, Brown gave a little more background. "When I had her as a 2-year-old we were working her on the dirt and she was just OK," Brown said. "Then I breezed her on the turf one day with one of the partners there, Steve Laymon. I turned to him and said, "That filly will win a million dollars if she stays sound." And she did.
"That was just off one breeze. That's how talented she is. Just the first time I put her on the turf she breezed remarkable. When you see a work like that with a young horse you can tell."
Dayatthespa is scheduled to be offered at The November Sale at Fasig-Tipton on Monday, November 3, 2014 as part of the Lane's End consignment. Said Brown, "She's just meant so much to me and my whole staff. She's really a barn favorite. She's scheduled to be sold days after the Breeders' Cup. It will be sad to see her go, but she's earned it and can go on to the next stage of her life."
Artemis Agrotera (Saturday, November 1, Race 6, $1 million DraftKings Filly & Mare Sprint)
If the Filly and Mare Sprint were a beauty contest, by all accounts and photographs Artemis Agrotera should win hands down. "Artemis" drew post position five for the race and is tabbed at 3-1 on the morning line. With regular pilot Rajiv Maragh sidelined by injury, Jose Ortiz will ride her for the third time. She looks for her fourth straight victory and second Grade 1 tally.
Trainer Mike Hushion was upbeat after the draw. "I'm very happy," said Hushion. "She'll load late and has a terrific post position.  She's the kind of horse that will run from anywhere.  Jose Ortiz knows her pretty well.  He rode her over the summer and has worked her about six times.  She's doing great and we're hoping for a clean trip."
"Artemis" shipped over the weekend, and galloped 8 1/2 furlongs on Tuesday morning.
"She's OK," Hushion said. "She gets disturbed a little bit by the shipping. We have to worry about getting her back 100 percent on her feet. She certainly looked like it didn't bother her going over the track this morning." Added Hushion, "She's wants to be strong," he said. "She wants to be strong in the barn and she wants to be strong on the track. She's a very active horse in her stall."
Although Artemis Agrotera is just one of several top contenders in the line-up, topped by possible lone speed Stonetastic, and Maragh also seems to have suited her particularly well, the draw is excellent for the
Grade 1 winning Broman homebred, she has a versatile running style and appears to be in peak form. With a clean trip she should give an excellent account of herself.
Upstart (Saturday, November 1, Race 8, $2 million Sentient Jet Breeders' Cup Juvenile)
Upstart, second to top Juvenile contender Daredevil in the Champagne, drew the outside post, number 12 for the Juvenile and sits at 8-1 on the morning line. The talented colt's ability to come from off the pace could be of service here with the wide draw, and trainer Rick Violette has been explicit about race strategy, telling the DRF, "We have to break running and be very aggressive and try to seize a decent position going into the first turn."
Violette elaborated. "Being on a highway, if you want to change lanes, you're better off to accelerate and get in front of somebody because if you back up, you might be backing up to the back of the pack."
With favorite American Pharaoh out of Sprint, Upstart is a top contender, along with Calculator, Carpe Diem and Daredevil, the four that are likely to attract the most support at the windows.
Hangover Kid (Saturday, November 1, Race 9, $3,000,000 Longines Breeders' Cup Turf)
Hangover Kid, who breezed 3f in 38.45 at Belmont on Tuesday (4/5), drew post five and will be ridden by Jose Lezcano, his pilot two starts back when they won the Grade 2 Bowling Green Handicap.
The 6-year-old has longshot status in a field full of accomplished European horses (30-1 ML), but also a long history of outperforming his odds. Last year Hangover Kid came from last in a field of 12 to finish second in Aqueduct's Grade 3 Red Smith Handicap at odds of 23-1, and mounted a strong late rally to finish third in Monmouth's Grade 1 United Nations Stakes at odds of 47-1 in a field of eight. This year he was second in the Grade 2 Monmouth Stakes at odds of 19-1. If he gets a chance to make his run, it would not be out of the question to see him jump up in the final stages to finish on the board.
Palace (Saturday, November 1, Race 10, $1.5 million Xpressbet Breeders' Cup Sprint)
Palace, who drew post eight and is 6-1 on the morning line, will be reunited with regular rider Cornelio Velasquez for the Sprint. He posted his last serious work at four furlongs in 46.40 on Monday at Santa Anita (3/54). Trainer Linda Rice said, "I wanted five through eight and we got it. I'm really happy with it."
Rice also reported that Palace exited the workout in excellent shape and full of energy. "He came out really well. He was really fresh, though, so we jogged him today. He's feeling great."
Rice shipped Palace early to Santa Anita by design. Said Rice, "I had been monitoring the temperature between California and New York on a daily basis – and in my mind, I think there's a risk if you ship from cold to hot," Rice explained. "So we shipped him in earlier. From hot to cold it's easier – like when Gulfstream horses ship north and do well in New York.
"I'm glad he's adapted so well," Rice continued. "He also took to the track well." She mapped out the plan for the rest of the week: "He will gallop into the race a mile and a half every day and we will paddock school him on Wednesday or Thursday."
Rice added some general observations on Thursday: ["Palace is] very much like his father [City Zip, whom Rice trained]. He's a little taller and he's become better as he has aged – while City Zip was a great two-year-old – but he has the same ability and speed to win or the front or come off the past just like his sire."
Again, this is a tough lineup, but Palace has stamped himself one of the top sprinters in the country and belongs with this group. He should be on or near the lead throughout in the speed-laden field.
Zivo (Saturday, November 1, Race 12, $5 million Breeders' Cup Classic)
Zivo, a potential sleeper in the imposing Classic field of sophomores and older horses, drew post eight and will be ridden by regular rider Jose Lezcano (15-1 ML). His strong closing style could well be just the right answer to all the hard hitting which is likely to take place on the front end. There is no reason that he could not spring an upset, even in a field of this caliber with the right trip.
Trainer Chad Brown explained how the 5-year-old son of True Direction got to where he is today. "We always liked the horse. I know he's not by a sire who's really known, but the bottom side of the pedigree is solid for distance on dirt. We thought he would be a solid New York-bred horse and we have allowed him to work his way up. He's come from the bottom but we've never run him for a tag, either. We've always run him against New York-breds and he's earned his way through the allowance ranks and the stakes ranks. It's been a pleasure to watch him develop."
Zivo moved into open-company stakes this summer and won the Suburban Handicap at 10 furlongs. He was fourth in the Woodward at Saratoga and ran second to Tonalist in the Jockey Club Gold Cup. The fourth in the Woodward was the only time Zivo missed hitting the board in 17 career races.
Brown elaborated after Zivo's 1 1/2-mile gallop on Thursday, crediting owner/breeder Thomas Coleman with the decision to move the horse up the ladder the Suburban. "It was time to take a shot. The owner wanted to take a shot and he was right. He ran terrific [in and we started to think about [the Breeders' Cup Classic] and maybe we can get there, so we started to work backwards from it. We had to sit one of the races out and the Whitney seemed like the logical race to sit out. We were using the Woodward as a prep for the Jockey Club in turn as a prep for this race."