Monday, November 10th, 2014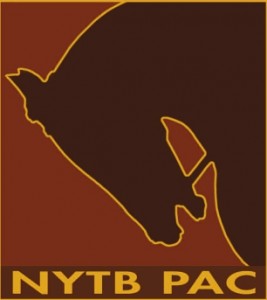 By Sarah Mace
New York Thoroughbred Breeders, Inc. (NYTB)'s annual Stallion Season Auction will be held on Starquine.com beginning Monday, January 12, 2015 and ending Wednesday, January 14. The auction raises funds that enable NYTB to carry on its two-fold mission of promoting New York breeding and racing and protecting the welfare of industry stakeholders.
In the past, proceeds from the NYTB Stallion Season Auction have helped secure the purses and incentives that exist in the state today, making New York's regional breeding program the strongest of its kind in the nation.
Currently New York-breds enjoy a $40 million restricted race program with 800 New York-bred races run annually at the three New York Racing Association racetracks and at Finger Lakes. Approximately $8.6 million in purse money is distributed each year in stakes restricted to New York-breds, and the New York Breeding and Development Fund is worth $21 million.
Down the road NYTB is committed to protecting these advantages and, therefore, also protecting the investments so many from New York and out-of-state have made recently in the New York breeding program.
In 2014 the following New York farms donated seasons to the NYTB auction: Dutchess Views Farm, Keane Stud, McMahon of Saratoga Thoroughbreds, Questroyal North, Rockridge Stud, Saratoga Stud, Sequel Stallions New York and Darley at Sequel Stallions New York.
The auction has also attracted many sponsors from out-of-state: from Kentucky, Adena Springs, Darby Dan Farm, Darley, Millennium Farms, Pin Oak Stud, and WinStar Farm; from Pennsylvania, Penn Ridge Farms and Pin Oak Lane Farm; and, from Maryland, Adena Springs at Heritage Stallions.
Donations of stallion seasons will be accepted until the beginning of the auction. Click here for the donation agreement. Questions may be directed to NYTB at (518) 587-0777 or info@nytbreeders.org.