Monday, September 9th, 2019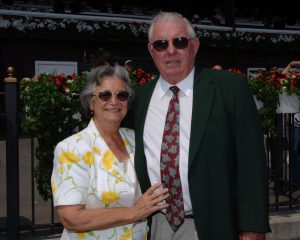 By Sarah Mace
Chester and Mary Broman were honored as New York State Breeders of the Year by the Thoroughbred Owners and Breeders Association at the 34th annual Thoroughbred Owners and Breeders Association National Awards Dinner on Sept. 7 at Fasig-Tipton in Lexington, Ky. In addition to announcing National Owner of the Year (Seth Klarman of Klaravich Stables) and National Breeder of the Year of the Year (John D. Gunther), TOBA honored State breeders from 22 states and Canada at the annual event.
In the context of a banner year for the New York State breeding program in 2018, the Chester and Mary Broman's homebreds put together another top season. Honored also by NYTB as the outstanding Breeders of 2018, the Bromans won 69 races with homebreds from their 300-acre Chestertown Farm near Chestertown and compiled earnings of $3,352,927 while winning five stakes races.
Highway Star led the stakes winners, winning a pair of restricted stakes (Iroquois add NYSS Staten Island Division). The Bromans' roster of 2018 black type winners also included Mr. Buff (Alex M. Robb Stakes), Can You Diggit (Evan Shipman Stakes) and Surge of Pride (Maid of the Mist Stakes).
Chester and Mary Broman, whose names are synonymous with New York breeding and racing success, have been named the state's top breeders four times in the past five years (2018, 2017, 2016, 2014) and six times overall (2004 and 2011).